Have you ever calmed down the urge to break your coffee maker into halves when you find the water has dried mid-brewing? If you haven't gone through this for at least once in your life as a coffee fanatic, you're on your way, don't worry. But in case you don't want to face these incidents and consequences, better get yourself a coffee maker that comes with a direct water line. Just cut down that need to refill your water reservoir throughout the day by getting yourself the best Plumbed Coffee Maker and simplify your coffeelicious life tenfold!
Top pick:
Our top pick as the overall Best Plumbed Coffee Maker is the De'Longhi Magnifica Super-Automatic Espresso & Coffee Machine in model number ESAM3300.
Why is this the best?
Can prepare cappuccino, latte, espresso, and much more.
Beans to brew mechanism for freshly ground coffee every time.
Perfect heat distribution with instant reheat.
Reviews on the Best plumbed coffee makers and Plumbing kits
We have picked both plumbed coffee makers and plumbing kits for you based on factors such as utility, cups generated, material, etc. below!
BEC-110 Countertop Automatic Filling Coffee System

Capacity: 10 cups
Material: Stainless Steel
Product Dimension: 12.25 x 7.50 x 13.25 inches

Keurig K150 Single-Cup Commercial Coffee Maker

Capacity: Single Serve
Material: Plastic
Product Dimension: 14.00 x 10.50 x 13.60 inches


Keurig K150P Commercial Brewer with Direct Water Line

Capacity: Can generate multiple single-serve cups
Brew Size: 4 to 12 oz.
Product Dimension: 10.50 x 13.60 x 14.00 inches

Keurig K150P Commercial Brewing System

Capacity: Single Serve
Brew Size: 4 to 12 oz.
Product Dimension: 17.00 x 14.00 x 17.00 inches

De'Longhi Magnifica Super Automatic Espresso & Coffee Machine

Capacity: Can be selected for single to double cups
Material: Stainless Steel
Product Dimension: 11.00 x 15.30 x 14.40 inches

PureWater Filters Direct Water Line Plumb Kit

Compatible with Keurig B150, K150, B155, and K155 brewers.

Hooks Brewer to a direct line.

Keurig K/B150-155 Direct Water Line Plumb and Filter Kit

Compatible with Keurig B150, K150, B155, and K155 Brewers.

Includes direct water reservoir.

Product Dimension: 21 x 13 x 8 inches

Compatible with most commercial Nespresso models.

Item Dimensions 8 x 10 x 6 inches
Plumbed coffee makers usually give you an idea of a machine being used for commercial purposes mainly. But what if we told you a machine exists that was designed only for overly enthusiast coffee drinkers at home who are tired of refilling tanks? This is it! Well, not just homes, it can be used for small-sized offices with employees who love coffee.
One thing about this coffee maker is that it doesn't use K cups like most of the machines on our list today. Instead, it uses ground coffee beans. So you can already tell you will be getting better coffee from here and even more so if you have fresh grounds every time.
And if you need hot water in order to have other items beyond coffee, your wish will be BEC's command! Because it provides hot water too.
We really love one thing that is the thermal carafe that can hold as much as 10 cups of coffee, unlike single-serve baddies. Also, with the help of insulation, it keeps your coffee warm in the brewer, unlike K cups that need brewing from time to time to keep warm.
One of the most popular in the business, this commercial coffee maker from Keurig, was made especially for small and medium businesses as you would learn. But did you know, you could use it for your extended family full of members who need coffee 24/7? The affordability and the exceptionally reasonable sizing of it make it the perfect size for home use, for which homeowners, business owners, and entrepreneurs tend to lean toward. You can get 4 to 12 ounces of drink sizes prepared by this sophisticated model and enjoy a perfect brew every time!
We love this more because of the touch screen command prompt that makes it so stylish for your kitchen. You can choose from the widely available K cups that the machine uses in order to brew yourself anything from tea leaves to cocoa grounds. Not just the drink type, you have full control over the intensity of the drink and how long you want to brew it too!
If you have been doing something for 30 years, one might say you have gained a lot of experience in that field. The same goes for the coffee making industry. Keurig has been in it for 30 years now, and it has been making highly functional coffee machines with exceptional brewing capabilities.
This particular coffee machine that we have here has been designed to remove your woes of filling water tanks, whether you own a small coffee business or a medium one.
It comes with a pre-assembled plumb kit, so you do not have to worry about installing it, something which most people find daunting at the first try. The plumbing kit and filter kit also makes sure that you get filtered water every time, and that produces delicious, consistent cups instead of having manually boiled water.
The touch screen interface also has programmable instructions on it about brew temperature and brew time. Automatic on-off settings, making it easier for you to control your home coffee brewing when you are outdoors.
It is hardly possible that you will be bored by Keurig plumbed coffee makers as they are one of the best. Hence, another inclusion of their commercial brewing system for you! It has adjusted dimensions compared to the previous one, so you can check whether you want this size for your home or the previous one.
You can purchase it for your personal home use and have it directly plumbed into your kitchen. However, unlike the previous option, you will need to buy yourself the filtering kit separately. That actually means you will not get any water line supplies added with the coffee maker; you will need to buy it all separately and call in professionals to have them adjusted.
Usually, the Keurig commercial systems have an adjustable tray near to where your coffee is dispensed so that there is no splashing depending on which mugs you use. But this particular one needs an adjustment, without which, it is pitch-perfect for household use and better coffee!
Check this our latest article about how to drain water from keurig 2.0 for storage
The last one in our list of some plumbed coffee or espresso makers is our top pick, as you may have already seen! And it doesn't just prepare coffee and espresso, but drinks like a latte, cappuccino, and much more.
It has a number of unique features. First is the bean to brew system, which is an automatic mechanism to grind coffee freshly before brewing each time. So, no matter if you're heading out for the office or coming home from there, you get consistent, delectable cups of freshly brewed as well as freshly ground coffee.
You will find two boilers inside the machine. This allows the even distribution of heat as well as keeps the coffee warm by reheating it in a continual process. Mind you; this does not ruin the taste of the coffee if you prefer that intensity. So you always get an ideal temperature maintained in your coffee cups no matter at what time of the day and after how long of an interval you have it.
There are also adjustable coffee spigot heights and customizable ground and water control on it. All in all, we love this plumbed coffee machine!
Plumbing kit
First, we need to tell you what plumbing kits are. Plumbing kits are basically accessories that allow you to connect your coffee machine to a water line. These are sometimes universal and work with all coffee machines, and sometimes they are just meant for one particular brand, say Keurig. Whether universal or not, we have our top 3 plumbing kit picks for you here:
If we are discussing filters for a commercial coffee maker with a water line, can we look beyond the market other than PureWater? They are the best in the market for a number of reasons, and we think we can unveil most of the reasons here.
This plumbing kit unites your coffee machine as well as your water line into a single power pack that can give you continual coffee to some extent. Unlike some kits that miss out on parts that you need to buy again separately, you get your elbow and nozzles here. You have to attach both of these connectors to the kit and the waterline and hence the coffee maker.
However, there's a thing that you need to know about the direct line connection. You need to have a filter in your water line that you will not get here.
You can make all sorts of drinks from it, all hot ones from boiled water to a delicious cup of latte. Also, the temperature maintenance in the water line will give you great cups every time.
Made to go beautifully with Keurig coffee machines, this is a cult favorite plumbing kit of the Keurig coffee maker lovers. It helps you to connect to both Keurig machines as well as Keurig brewers, and you can include anything in it from the range of the B200, K200, B3000, B3000SE, B150, K150, B155, K155, B155P, to K155P.
At first glance, you will just think that this kit is a combination of tubes and valves just any other water line installation requires. And that may not impress you as of yet. But if you observe the lines closely, you will find that you have a PureWater water filter with the kit. And if not anything else in the kit, this particular filter from this particular brand should make you feel safe about the water quality and improved taste of your coffee. It removes toxic components and chlorine from the water using the activated carbon filter and prevents the build-up of scale in your coffee machine using its polyphosphate inhibitor. These and the food certification that the model has received from NSF make it a worthy purchase.
PureWater is the godfather of this filtering kit too. This one has been made to work with the non-commercial coffee makers, especially the Nespresso ones. It already has existing water storage to it, and you have to connect it likewise. Made particularly for the espresso lovers, this is a compatible filter that works great with Evoluo, Essenza Mini, Citiz, Vertuo, VertuoPlus, VertuoLine, Inissia, Pixie, Lattissima, Creatista, and Maestria.
It can also work with your existing reservoir for continual coffee. You will find all the necessary plumbing accessories and filters in it so your water will be clean and coffee tasty! All the chlorine, bad odor, and any other toxic gunk that could potentially come out of tap water can be easily filtered by this kit to give you an excellent cup of coffee.
What Do You Call A Plumbed Coffee Maker?
A plumbed coffee maker is a coffee maker where you have a direct water line incorporated with your coffee maker. You do not need to fill up such a container multiple times throughout the day. We know that a common situation coffee fanatics face is the need to drink coffee multiple times a day. But sometimes, you just don't want to get up from your chair and add water and coffee and all the rest to make yourself a cup.
This is especially possible when you have a serious meeting coming up and you are preparing for the slides and presentations or when you stay up all night to prepare for your exams or watch your favorite series. You feel the urge to drink coffee but don't want to refill it. How do you solve this issue of constant refill that your lazy personality can no longer bear? A plumbed coffee maker! This machine automatically refills water for the next cup when the previously filled water dries out.
Here are our latest article about How to Make Coffee Without Filter or Paper Towel
Is your coffee maker dead? Then read this article about How to Make Coffee on The Stove
Advantages of Using A Plumbed Coffee Maker
There aren't many plumber coffee maker manufacturers out there that you will have a plethora of options to pick from. And if you are looking to get a plumbed coffee maker for your home instead of getting a commercial one for your office or business, you're different and exceptional! Because these are mostly made for commercial use. But that doesn't mean you can't get one such maker for your home where you don't want constant refills.
So we will discuss the advantages of the best-plumbed coffee makers in three sections for three major kinds of buyers.
Business
First, let's start with the business. Usually, cafes and coffee bars buy such kinds of plumbed coffee makers due to customers' lines that keep coming. Imagine if they had not any plumbed coffee maker. In that case, they would be required to fill in the coffee maker each time a customer placed an order. How tiring and time consuming would it be for the baristas? And they would be losing their businesses because by the time one coffee would be finished making and the need to refill the reservoir will arise, customers will shift from this coffee bar to someplace that serves coffee fast and smooth.
So, for quick-serve, the best-plumbed coffee makers are useful.
Again, consider this. A group of friends come to your coffee bar and order the same coffee. Now, imagine two scenarios, one friend gets an espresso made by Barista A, and the other friend gets the same espresso made by Barista B in the restaurant's commercial coffee maker. Even if there are fixed measurements to making the perfect espresso in that restaurant, the cups may be different due to human error of filling the reservoir timely or with the right amount. The solution to this and getting consistent cups lies in getting a plumbed one with better water control, quality, and supply.
Office
Secondly, plumbed coffee makers can prove to be hugely advantageous for offices and formal spaces like these. In an office, people are usually and stereotypically working 9 to 5, and hence as the manager, you would not expect your employees to know how to install water filters and softeners. You also don't want them to be installing indirect water lines or filling the water reservoir from time to time because obviously they weren't hired for this and have better work to do.
So it may be that you, the manager, filled the water tank once, but some employees got there before you and drank the cup in your absence.
Are you going to fire employees for drinking a cup of espresso?
There's already a lot of pressure from work, and you definitely don't want to kill time filling and refilling water tanks. And you also don't want to stop drinking coffee because that's what keeps you and your work running.
To avoid havocs like these, you can install a plumbed coffee maker in your office. And not just a simple one (because we have enlisted the best-plumbed coffee makers!). This will ensure that your employees do not leave their desks for longer and return quickly because the direct water line is doing its job.
Home
Now for the home users, how can get a commercial plumbed brewer to be beneficial?
In multiple ways, actually. First off, you will never need to refill the water tank that took so much of your energy and will to drink coffee. Secondly, if you have a large home, a joint family, or frequently have guests over, you will know the peril of filling multiple times, and hence, a plumbed line will be a blessing.
Besides, you can use the supply of hot water that comes from your coffee maker to make more than just coffee: you can make tea and soups too! And you know what scary things happen when your water reservoir is dry, but the coffee is still brewing inside the maker. The machine gets damaged. You'll be safe from that too! And speaking of damage, causing your water to sit inside the reservoir without use, can cause health damage by infusing bacteria in the stale water. This happens when you leave the water to brew and forget about how long it had been sitting. The best-plumbed coffee makers can save you from this too!
Want to know, How to Clean a Copper Tea Kettle?
You can check this article also about How Do You Clean the Inside of an Electric Kettle
Components Included In A Plumbed Coffee Maker
There are different finishes and sizes of coffee makers available in the market, just like any other home appliances having multiple models and multiple component types.
Most of the plumbed coffee makers you will find in the market are usually toned in black, white, or silver. However, there may be other neutral colors than the three. These coffee makers are given a polished, outer look in order to come off as sophisticated and desirable items. So you will mostly see black plastic and brushed metal finishes. But like we said already, other color schemes are possible too.
The sizes of cups generally differ in the plumbed coffee makers. You can have as much as 6 to 12 cups or more. However, if you are getting a commercial system, unlimited cups are possible as well. If you want any upgrade or change in your coffee makers, you can always opt for high-end models that have more features and attributes than the regular coffee makers. Because in reality, the more specialty you want from your coffee maker and the more added features you want besides the basic ones, the more components can come if you pay the price and look beyond.
For example, most models feature a carafe. But what most models don't have a feature on is how much can the carafe hold. There are coffee makers that have it dictated on how full your carafe can be. Again, there are models that have built-in methods in them that regulate the fullness of the carafe and when to fill it (meaning at what time pre, during, or post-brewing). Most high-end brands have this additional component of controlling your carafe according to your requirements. Another notable feature that the plumbed coffee makers have except carafe control is that of temperature control. This comes from the exceptional brewing technology in them, which you know again differs between brands.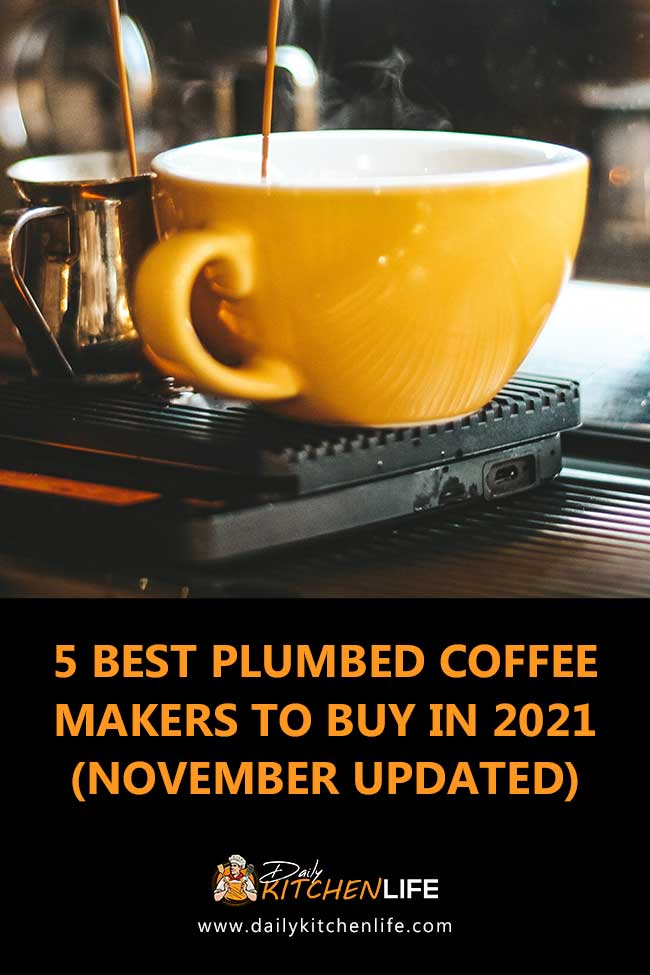 Why You Need Plumbed Coffee Makers
For At-Home Great Coffee
The commercial coffee makers make restaurant-style coffee making as simple as anything. You can easily brew your favorite caffeinated beverages using such a coffee making system, starting from a simple espresso to a latte or a cappuccino at the easy press of a button.
And not just these, you can make any specialty drinks that are not caffeinated. You can even get yourself hot water to make your morning matcha or soup from this coffee maker. And you know what's special in anything hot that you are generating from the plumbed machine? It is all consistent with that each cup has the same level of purified, brewed water. 
For the Best Brew
Three crucial things go into making the perfect cup of your coffee: brew temperature, brew time, and the grind from the beans. It is wise to get yourself a coffee maker that can grind most or all types of beans. In that way, you get the freedom to choose any coffee beans from the market, even if it's decaf. Again, getting yourself a coffee maker from which you can choose your custom settings or just stick to default, all the while making it ideal for yourself, is a great addition to life, don't you think? Default settings also come in handy if you take our advice and get a plumbed coffee maker that can deal with any beans. When you don't know at what temperature to brew them, such a machine comes in handy!
There is also the option to find your coffee cup portion sizes, depending on who will be drinking it, and you don't need to fill or refill tanks each time according to the preference of every person ever.
Superior Flexibility
Whether it is just yourself that you are serving or a houseful of guests or a cafe full of customers, a plumbed coffee maker offers great flexibility to you, these machines are all about giving you the convenience of coffee making without killing time.
There are some plumbed coffee makers where the members of the house can create their own drinking profiles. Each member of your house will get to set his or her coffee preferences with water filling the reservoir automatically, and the press of a button will determine what kind of drink the coffee maker is to make.
Buying Guide for the Best Plumbed Coffee Makers
Size
When you are picking up your coffee maker, the first thing that should come to your mind besides the delicious coffee that you will be getting from this is where you will set it up. Hence, the machine's dimension will be important to know, just as we mentioned in our compact list of products. And obviously, these will require more space, since they have built-in water reservoirs in them. If you can, find wall-mountable options.
Filter
When you are getting yourself your plumbed coffee maker, wait and rethink and go for a filter too. One of the best purchases you can make with your direct line maker. Why is this so necessary? Because a good quality filter can control the quality of the water flow to and the taste of your coffee.
Some coffee makers come pre-assembled with filters, and in some, you may need to install them yourselves. For the latter, get ready to pay the price of additional filter installment to your existing coffee machine.
Material
The material of your coffee maker will greatly impact its durability, so be cautious here. Different brands offer different varieties when it comes to the construction material, and hence, the quality will be different too. Since plumbed coffee makers, in general, are considered high-end, luxury appliances that aren't a basic house necessity, most have consistent quality and are hugely made of metal or plastic.
Cups
The number of cups your coffee maker can produce in one goes may be your deciding factor in buying such a machine. Because, let's be honest here, if you find the best-plumbed coffee maker made of just the right material, has a perfect size, comes with an add-on filter but can only make as much as one cup per serving when you need a speedy, unlimited flow of varieties of at least 2-3 cups, this won't make the deal.
Functionality
Of course, the main aim of using plumbed coffee makers is that they are hugely automatic and hence convenient. But we should be able to at least customize the type of drink we will be automatically getting from it. If you want the same, you should go for a machine that has customizing options.
How much you want the carafe to be full, when you want it to be full, whether the machine should be on or off when you are leaving the house, and whether it has automatic shut-off mechanisms are important considerations to make.
Water Line
So, you are checking if there is everything, but you forget to check the lot's main item.
Will it do for you in your coffee making process?
Like the movie Home Alone, where Kevin, of all things and people, is forgotten by his mom, don't get a coffee maker that doesn't have a built-in water reservoir. And even if you do like such a machine, at least make sure that it has provision for adding a water line to it in the future.
Aesthetic
For some, the aesthetic aspect of buying a coffee maker that matches his kitchen tabletop may not be so important, but if it is for you, go along! Fixing a water line to your coffee maker and wall-mounting it are quite permanent things that you won't be changing so often. So make sure that the stuff looks good in your kitchen while it makes cups of coffee.
Budget
Just because we are reminding you that it is high-end doesn't mean you need to think Beverly Hills or Palm Springs high-end. You can always be within your budget and find a model that suits your kitchen!
Utility
Getting your own temperature and timer may be important to consider when you are buying your machine. That is especially true if you like to play with the types of beans that you will be feeding the machine. Again, it may not be so important if you are rigid in the flavors you like. Hence, how much utility you get from the device in terms of coffee making will depend on which features and attributes you add or remove.
Maintenance
Pour-over coffee makers need plenty of work with the water filling. But when you have a direct water line, this maintenance cuts down in halves or more. Make sure of what kind of maintenance you will need when purchasing your plumbed coffee machine.
Water Quality
When buying, make sure that you have a decent water softener in your machine. Also, since the damage will be less from the lower scale build-up, do make sure that you know when the parts need changing for the best water quality.
FAQs
What do you call a coffee maker with a water line?
This is something where there is a direct water connection to the coffee maker such that you need not do anything manually. You do not need to fill or refill the water tank in these coffee maker types as you would do in regular coffee makers. This kind of coffee maker takes up water from the line as is required and is usually used in places that require full-time coffee making like coffee bars, offices, etc.
Which brand makes the Best Coffee Maker with a Water Line?
There is actually not a single best company to buy your plumbed coffee maker from. However, bestseller coffee makers might help you decide from all that is available if you are overwhelmed by the options. We already have mentioned Keurig and BEC other than our top pick. But even the best-selling ones might not suit your needs, so it basically depends on your coffee preferences.
What is a plumbed coffee maker, actually?
A coffee maker with a direct water line attached to it.
Can I use a coffee maker with a water line for hot water only?
Yes. Although you will not get boiling, hot water, enough to make soups and ramen.
Do I need to buy a coffee maker with a direct water line?
If you want to not take the trouble of filling your coffee maker's water reservoir manually every time, then you do need one.
Who actually needs these Coffee Makers with a Waterline?
Businesses, offices, or even homes.
How can I hook up a coffee maker to a water line?
You can either do it with the help of your step by step instruction manual or you can call in a professional to wall mount your coffee maker with a water line.
Conclusion
We hope you have understood all about the best-Plumbed Coffee Makers! All of these boils down to this: you will need one of these if you want freshwater giving you fresh brew every time or if you need to satiate the coffee-seeking thirst of plenty of people at the same time, you need a plumbed coffee maker. Although we have only reviewed 5 coffee makers and 3 plumbing kits for you, there are quite some great varieties other than these that you may find appealing. But no matter what you get, be sure to match them with our buying guide and, of course, your kitchen!