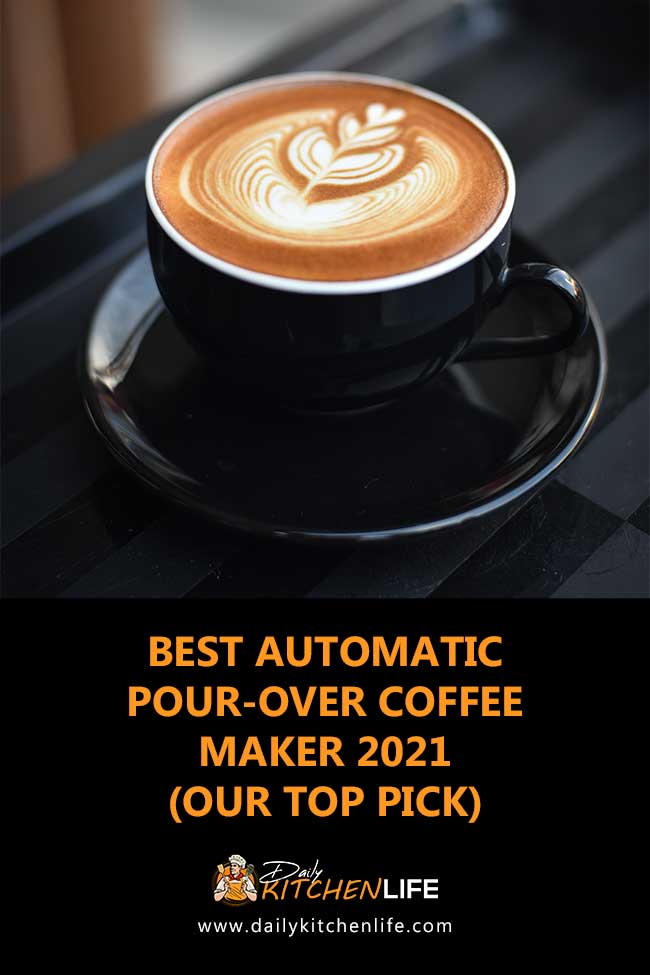 As the water boils up to the perfect temperature, the coffee grounds blend effortlessly into a rich aroma and results in a freshly brewed cup (or more) while you hurry to get ready for the office. But would you sacrifice the delectable pick-me-up even when you don't have time? Not with the best automatic pour-over coffee maker!
The manual pour-over method may control the temperature and the water flow, but there remains the uncertainty of not every cup tasting the same. You don't see this when a machine is doing all the job and delivering barista-specials to your cup every time!
However, you will need to look for water capacity, program settings, carafe inclusion, volume, etc. when you pick one of these as mentioned later. Read along!
In a hurry?

Don't have much time? Now, what is the best automatic pour-over coffee maker? Well, see below.
Editor's Top Choice
Technivorm Moccamaster 59616 KBG Coffee Brewer
Perfect Coffee Every Time: This pump-free coffee maker heats water to the...
Easy to Use: The Moccamaster brews a full 40 oz pot of coffee in 4-6...
Quiet and Safe: The Moccamaster KBG quietly brews your coffee and...
Quality Materials: Moccamasters last a lifetime. We use BPA/BPS/BPF and...
Delicious Coffee and Peace of Mind: Moccamaster coffee brewers have a...
Last update on 2023-03-09 / Affiliate links / Images from Amazon Product Advertising API
Why Do We Choose it?
Here's a gist: if you're looking for a premium option for homebrewing or other uses, go for Technivorm Moccamaster. Experts trust this no-plastic coffee maker in the trade. You will need only 6 minutes 40 oz of freshly brewed coffee made in a push of a button with no-pumps, meaning no-hassle, and backed by the copper element that ensures excellent brewing and holding.
Pull away the glass carafe when you're ready, and the drip-stop basket saves you from a messy counter! With its efficient operation and auto-off features backed by a heaping 5 years of warranty, you'll be in for the best brewing experience.
Why Do You Need it?
Aluminium construction
Can make 10 cups of coffee at a time
Auto shut-off after 100 minutes to save energy
One-button operation that gives you ease of use
Copper element offers perfectly brewed coffee every time
No pumps.
Best Automatic Pour Over Coffee Maker Comparison Table
Editor's Choice
Best Budget Buy
Product
Technivorm Moccamaster 59616 KBG Coffee Brewer, 40 oz, Polished Silver
Breville Precision Brewer Thermal Coffee Maker, 60 oz. Brushed Stainless Steel, BDC450BSS
Cuisinart - CPO-850P1 Cuisinart CPO-850 Coffee Brewer, 8 Cup, Stainless Steel
---Bonavita 8 Cup Coffee Maker, One-Touch Pour Over Brewing with Thermal Carafe, SCA Certified, Stainless Steel (BV1900TS)
OXO Brew 9 Cup Stainless Steel Coffee Maker, 72 fl.oz.
Material
Stainless Steel, Thermal Carafe
Editor's Choice
Product
Technivorm Moccamaster 59616 KBG Coffee Brewer, 40 oz, Polished Silver
Best Budget Buy
Product
Breville Precision Brewer Thermal Coffee Maker, 60 oz. Brushed Stainless Steel, BDC450BSS
Material
Stainless Steel, Thermal Carafe
Product
Cuisinart - CPO-850P1 Cuisinart CPO-850 Coffee Brewer, 8 Cup, Stainless Steel
Product
---Bonavita 8 Cup Coffee Maker, One-Touch Pour Over Brewing with Thermal Carafe, SCA Certified, Stainless Steel (BV1900TS)
Product
OXO Brew 9 Cup Stainless Steel Coffee Maker, 72 fl.oz.
Last update on 2023-03-09 / Affiliate links / Images from Amazon Product Advertising API
Whether you are a professional coffee brewer or someone who is trying it out, the Moccamaster can satisfy you with its efficient brewing and coffee-making. It has an extremely sophisticated outlook and placed anywhere can enhance the looks of the place. But does it perform well? With a single touch and wait 6 minutes, you can have 40 oz of coffee, perfectly brewed, and waiting to be poured and tasted.
What makes it the best in business, is the copper element and no-pump feature, which isn't found anywhere else.
You simply need to heat it up whenever you want and enjoy a warm cup as you please! Another great feature of this automatic pour-over coffee maker is no plastic in the making. Add to this the energy-saving mode when the maker automatically turns off after 100 minutes of usage. So, no burnt coffee!
When you remove the carafe for a pour, and the machine senses no carafe, it stops dripping. The automatic brew basket, together with the nine-hole outlet arm, makes an evenly brewed, no-mess cup every time.
Brewing craft filter requires a specific form of training, learning, and mastering. But what if you get perfectly brewed coffee as the end result without any of the hassles. At every use, you can get 60 oz of coffee made at optimal temperature and time!
So no matter where you have sourced your beans from, the age or roast, you get a delicious cup when you need it.
The PID control feature on the machine allows you to pick the right time and temperature and optimize them as you wish. If you want, you can pick from the 3 water flow rates too!
Did you know that the quality of water can impact how your coffee tastes?
Thanks to the Thermocoil Heating System infused in the machine, you get purer water and better coffee.
It also comes included with Flat Bottom and Cone Filter baskets that let you pick your volume as you desire. You can also optimize the bloom time in the Brew Settings. You can select from any of the 6 preset modes that come with it. And in case you're not willing to do any of it, the Gold Cup Standard of Breville carves out the best brewing practices for you.
Another great feature is that when you are brewing small batches, it can hold the water and coffee in contact even when the carafe is not in place. All of these together make it one of the best pour-over coffee makers with a thermal carafe and much more.
Some coffee machines are built according to the SCA or Specialty Coffee Association's certificate. This makes sure that the machine in the making has passed through the rigorous tests of operation and safety and is fit to use. If you want a machine that meets professional standards, Cuisinart makes one of the best automatic pour-over coffee makers with a certification.
Whether you want your coffee in mild, medium, or bold in flavors, you can get all three of them from Cuisinart. In terms of temperature too, you can pick between hot and piping hot. The great thing is you can pick from glass or thermal carafe additions.
So if you don't like one, you can always go for the other. Here also, you get the precision brewing that brings out flavors that give you a coffee-bar experience. You can program it all throughout the day, with its features of turning on and off and self-cleaning. The Brew-Pause feature allows you to save drips until you finish the cycle of coffee pouring and passing around.
The best way to make a coffee cup early in the morning is by a single touch. With just a sing push of a button, you can have your favorite cup made early in the morning with Bonavita. The showerhead, carafe, and the filter baskets with their efficient operation helps you to operate when you wish and clean without the guilt of ruining the machine.
The water heater helps to maintain an optimal brewing temperature of 195 to 205 degrees. Here too, you get the pre-infusion mode, which allows you to degas before the actual brewing process begins. If you like an engaging extraction and saturation process, you will love this coffee machine.
This is also a great option if you use it with the automatic pour-over coffee maker.
Do complex settings hurt your will to operate a coffee machine? Would you rather have something that is easy to use but delivers a great cuppa?
The OXO 9-cup auto pour-over coffee maker is the right one for you.
The machine features a brew cycle controlled by microprocessors for a different coffee-making experience. It will monitor the process from start to stop. It keeps a check of the brew time, and optimal temperature as the showerhead system evenly dissipates the flavor into your mixture.
With this SCA certified maker, you can make as much as 9 cups, as the name brings out, and a minimum of 2 cups.
One thing that we found here that wasn't available in any other mode was the LED interface. It lets you know the status of coffee as well as its freshness. You also get a dial with which you can program the cup number and time them. So, as the coffee continues to brew, you have to really do little. Only keep an eye out for guests attracted to the convenient coffee-making machine.
The best coffee makers would demand Cuisinart, and we listened!
We are mentioning the glass carafe option, but you can get the thermal carafe one too. This has also been SCA certified. So homebrewers can close their eyes to whether it has met the technical requirements of coffee-making.
You get to pick from hot and extra hot temperature options and also the flavors of mild, medium, and bold. Besides getting gourmet, coffee-bar exceptional coffee, you can get yourself some regular coffee too, if that's what you think you will get. In reality, it adds flavor to just any blend.
What the machine does is that it wets the grounds pre-brewing to let them bloom in flavors. You can enjoy the taste of self-controlled, manually-brewed coffee with all the precautions and features taken by the machine itself for an exceptional coffee experience.
We have already talked about Gold Cup standards. Want to know about another such machine that has met the standard? It is the KitchenAid pour-over coffee maker. It has been constructed by imitating the manual pour-over process.
As a result, you get the result of a manual, handmade, effortless coffee without the hassle of manually having to make it.
The sleek display's visual design lets you see whatever is happening in the brewing process right from heating to steeping. This allows you to take a glance and control the intensity of your morning coffee. KitchenAid's coffee maker is also one-touch. But in terms of flavors and brewing, you get medium and dark settings. So for a stylish coffee maker and a delicious brew, take our word for this red machine of delight!
This coffeemaker featuring the glass style has another variant: stainless steel, but we think you would like it better.
The first thing that we loved about it is the specially designed showerhead. This allows the coffee grounds to be evenly saturated. The water heater of the machine is of a superior built so that you get an ideal brewing temperature that meets the industry standards of coffee making. There is a pre-infusion mode through which you get unique flavors into the coffee as they brew to the perfect cup. Some tones indicate the start and stop of the brew cycle, so if you get busy in the middle of coffee making, the sound will let you know when you need to check again! Also, the hot plate allows warming and prevents overheating. All in all, we would say it makes one of the best automatic pour-over coffee makers.
Those who love glass-made devices will love the Gourmia GCM3350 Pourista fully-automatic, pour-over coffee brewer because of the revolutionary features it has. The design features beautiful stainless steel accents besides the glass carafe and has a digital time and temperature display to let you keep track of things.
But what exactly is a fully automatic experience?
Need to do two things: fill the tank with water and load the grounds of coffee. With this, you can then relax as the device continues to use the heating and flow controls to give you a precision-made coffee. The built-in scale will measure the grounds of coffee with the perfect amount of water, heats, and saturates it to make an exact blended cup.
You also get an authentic barista pouring feature, which encompasses bloom pause, planetary pour, and orbital rotation, the trio that helps deliver the maximum flavors. If you would like to, and if you have time to do it, you can always customize the temperature from 176 to 208 degrees.
The list ends here, but we have the cult favorite yet to discuss- the Ratio Eight coffee maker. You can brew up to 40 oz of coffee in the machine's borosilicate carafe-something that you hadn't seen so far. More to its design, you will be pleased with the base made of aluminum die-cast and accents featuring the stylish hardwood, all of which work together to give it a luxury look.
But what's in the looks if it can't make good coffee?
Thankfully, it does perform significantly. It maintains a high water to grounds ratio with the flexible brewing feature. The maximum heat retention function also helps to keep your coffee warm for longer times without burning it. The one-button operation makes things as easy as it gets.
The pump-free feature of the machine allows the water to naturally force itself through the line and along with the showerhead, which dissipates the flavor into the mixture well. With all of these and the five-year warranty, it makes a stylish cut in the coffee maker market.
What are Automatic Pour-Over Coffee Makers?
If you know regular drip coffee makers, you wouldn't have a hard time guessing what pour-over coffee makers are. The upgrade in the latter is the temperature control and hot water dispensation that makes the coffee so much better in the automatic ones.
In the automatic pour-over ones, the water is heated to a high temperature and held there as long as the brewing process continues from start to finish. The heated water may be kept separate from the tank or in it. However, temperature needs holding. Also, in such a coffee maker, the heated water is diffused into the grounds using a showerhead system.
There is also the feature of "blooming" in automatic pour-over machines. The meaning of this is that coffee grounds are infused in some water even before brewing occurs. It helps the flavors to bloom into the mix.
Manual Pour-Over vs. Automatic Pour-Over Coffee Makers
Suppose you have your mug or carafe or coffee-pouring container with you. When you are using the manual method, what you have to do is first heat the water as you would, according to your preference of temperature. Next, you will pour this heated water into the ground mix in a slow, steady, and controlled manner to make the perfect cup. The coffee, meanwhile, will sit on the filter, and as the hot water pours into and through it, the flavors and the juice will make the coffee.
On the other hand, with an automatic pour-over one, you control the variables in the settings. What is the most significant thing to be controlled in the settings is the water temperature. You don't have the power to maintain the heat and the warmth when you are manually doing it or continually do it. But with the automatic machine, you can control the bloom time, the flow rate, and the crucial temperature. You don't have to manually complete each step, but the end result you get will be as tasty or more.
Benefits of An Automatic Pour-Over Coffee Maker
With the best automatic pour-over coffee makers, you can enjoy a lot of benefits.
It saves from over-extraction.
You can save yourself from indulging in the never-ending process/cycle of pouring water.
No more bitter cups!
Efficient extraction of flavors.
Barista-like coffee every time without effort.
Easy to assemble and clean.
With one-push and adding pre-ground coffee and clean water.
You have to know about the benefits of black coffee without sugar.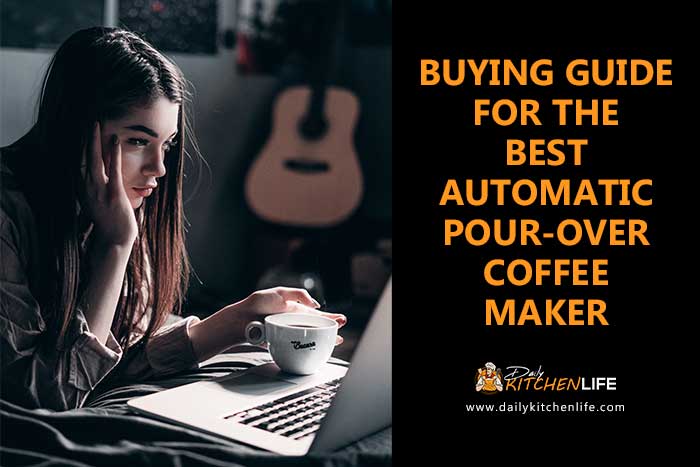 Buying Guide for the Best Automatic Pour-Over Coffee Maker
You can track the following factors on the next purchase of your coffeemaker for the best buy:
Durability
First, check the materials of the machine. Picking the ones that have stainless steel/glass and areas free of plastic as possible will help your machine survive the passage of time. When you observe the device altogether, pay special attention to check the showerhead, the carafe, and the filter baskets.
You will get a warranty in most of the models. So if you don't, you need to reconsider your options. Check the brand reputation for the longevity of the models.
Water Capacity and Model Size
You got yourself a coffee machine that can make coffee for a maximum of two people at a time. Is it efficient? If it is for yourself only, you may do with one cup at a time. But it is better to have an automatic pour-over that can give you multiple cups for yourself or for guests that come over. For this, you need to check the water capacity of the machine.
You also need to check the size of the carafe that will hold the coffee as it continues being made. Measuring in the number of cups, in ounces, or even liters is a good indicator of the model's size and capacity. Again, the size of the entire machine without the reservoir is also a matter of consideration. How much counter area it will need and how it looks and sits in the kitchen are also important.
Programmable Settings
A variety of programmable options are always welcome. But too many of them and you may find yourself going dizzy on the options available. But having the required variety is what you should aim for.
There's a useful feature in some models that allows you to wake up to a freshly brewed coffee cup in the morning, once you program it at night. Again, there is a blooming option that is pre-infusion of grounds to bring out the flavors. Still, digital display, LED, backlighting options, etc. are well-loved features that customers love.
Temperature and Time
Perhaps the temperature and its control are the most critical factors in finding the best coffee maker. The range of 195 to 205 degrees in the optimal one that will suit coffee lovers of both hot and extreme hot types. One thing that you will need to ensure is that the temperature should not only be adjustable but also something that can be held onto by the model as the brewing continues.
Also, the best pour-over coffee machines do not need more than 10 minutes of brewing to make your beverage for you. Break it down to 6 minutes of brew time and 4 minutes of preparing the final drink. This is the maximum leniency you should show in considering the time.
Thermal/Glass Carafe
Hot plates are great-sounding. They will keep your coffee warm if you have made extra, and you can always come back to warm coffee! But hardcore coffee lovers will argue. Keeping coffee for longer on the hot plate may "cook" your coffee and change its taste.
What is the better option then? Opting for a thermal carafe will keep your coffee warm in the carafe itself, and you wouldn't need a separate hot plate to maintain the heat. Whether it is single-wall or double wall-insulation on your carafe, it is always good to find one for your model.
SCAA Certification
The Specialty Coffee Association of America, otherwise known as SCAA or only SCA, is the organization that certifies professional coffee making. You can get a machine in the market that is SCAA certified. It means that the coffee machine has met high-performance standards and requirements. When you get an SCAA certified machine, be well-informed that you'll have great tasting coffee from a great working tool.
Water Delivery
If you have ever used a drip coffee maker, you would know that the water flow and delivery here is pretty slow. A fixed amount of it passed through the line and into the reservoir, without bringing out the most of the flavors. However, when looking for the right pour-over coffee maker, you need to check that the showerhead works well and can evenly distribute water by 'showering' the perfect taste grounds.
Bean Quality
Your machines will give you what you pour into the machine. If you are not buying super high-quality beans, don't go for a premium, professional-grade coffee makers. Getting a regular pour-over model will do the thing. But if you are getting premium beans, you should go for a premium machine too.
Cleaning
Getting a product that does all the right jobs but is a severe overkill when it comes to cleaning, is as good as getting no products at all. You need to do your research on how easy and convenient it is to clean and maintain the coffee maker.
You may get manual instructions on the device or read reviews online to help you understand the cleaning process. Some are dishwasher friendly, while some aren't. A safe dishwasher model with removable parts will make the best purchase.
FAQs
How can I differentiate between pour-over and drip coffee?
We have already talked about it. Pour-over coffee makers have better temperature and brewing control than drip ones.
Is the pour-over method or style better than the French-press one?
It depends on how you like your coffee. Bold flavors, a thick, rich aroma, and a strong feeling when you sip into it call for a French press type. For an instant, smooth and bright coffee, the pour-over style is the better option. It depends on your tastes, really.
Is pour-over coffee making any healthier?
These do have more flavors. The brewing water in the machine can pull more flavors and oils in it due to the steady and long-brewing process, so you get the most nutrients and antioxidants out from the beans and grounds. This should imply healthier, given that you are using the right type of coffee.
What are some of the best coffee beans I can find for my automatic pour-over coffee maker?
Pour-over coffees mostly taste great with medium roast beans. Unless you want something extra dark and bitter, strong, etc. you will like this one. We recommend purchasing the Volcanica Ethiopian Yirgacheffe coffee beans. In terms of grounds, medium coarseness is great enough whether your coffee maker is flat or cone-shaped.
Does it change the taste of coffee with a traditional pour-over?
Not for the worse. A pour-over coffee maker brings out the flavors, not ruins it.
Is it easy to operate an automated coffee brewer?
Automatic coffee brewers are as easy as using your smartphones. Just don't get too many program settings, and you'll be good to go.
How am I supposed to clean a pour-over coffee maker?
You can clean a pour-over coffee maker by making sure its removable parts are dishwasher friendly. If you can't find a model with movable parts, you will have to use cleaning props and detergents to clean each portion as is.
If you want to know how to clean a coffee maker with bleach then check this article.
You have to know about side effects of coffee in males and side effects of coffee in females.
Final Words
Now, we're at the end of our hunt of the best automatic pour-over coffee makers. Each of the ones mentioned in the list was selected based on the factors of durability, pricing, specifications, and customer concerns. You should know that most people are now switching from the regular drip and French press to the automatic pour-over options.
For a rich flavor, for control on the brew, many opt for these modern delights for less time and effort in the shape of coffee makers. So, without compromising the quality, whether you need a home brewing option or a professional coffee maker, these pour-overs will definitely aid you!
You can check our latest articles: