A tea kettle is used in almost all houses as tea is a part of our lives. That's why it should be cleaned regularly. And when the kettle is made of copper, then it will be a must to do that. But how to clean a copper tea kettle? That is a question.
So, without taking much time, let's get into descriptions and see what the effective methods are and how they will work.
Here are 5 Easy Methods on How to Clean a Copper Tea Kettle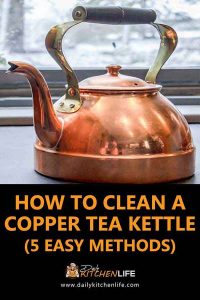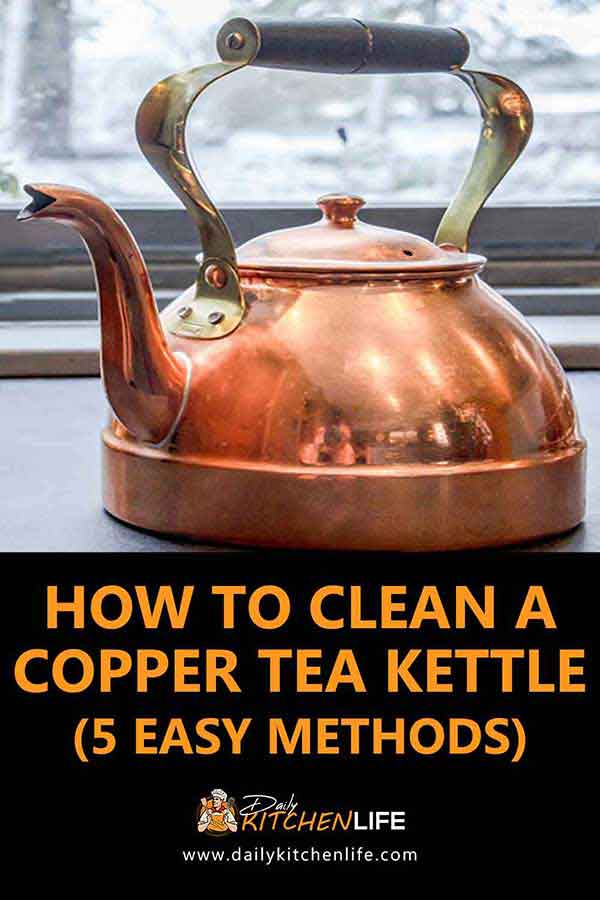 When it's about cleaning the copper tea kettle and all the tarnish of it, you need to be conscious about the effectiveness of the methods. At that time, you have to know about how to clean badly tarnished copper easily.
So, without any further delay, let's get into the techniques.
5 easy methods on how to clean copper tea kettle
Lemon Juice Method
Buttermilk Method
Toothpaste Method
Baking Soda and White Vinegar Solution
Ketchup Method
Lemon Juice Method
One of the most effective ingredients to clean copper kettle is lemon. The reason is, it has an acid that can take out the dirt and tarnish from the copper kettle in an easy way.
And for doing the cleaning, you will need:
Lemon juice
Salt
A scrubber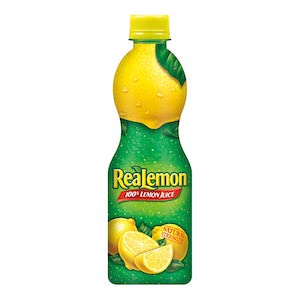 Some simple steps that you should follow:
Take the copper kettle and rinse it with plain water.
Take a scrubber and dip it into the lime juice.
Scrub the copper kettle in a gentle way with that juice.
Now take salt and scrub the kettle with it to clean it properly.
Rinse it off and leave it for air dry.
Note: Don't push the scrubber too hard on the kettle. You need to follow a gentle motion to do it. Also, don't use a metal scrubber. It might leave scratches on the kettle surface.
Buttermilk Method
For a quick shine on your copper kettle, you can also use buttermilk. Yes, you heard it right. Many people don't know about it but it works effectively.
And the ingredients you will need are:
Buttermilk
Boiling water
A sponge (use a soft cloth instead)
Some steps that you should follow:
First of all, take the tarnished kettle and fill it with boiling water. The water makes all the cleaning things much easier as it has a certain heat.
Take a sponge to start the application. You can also take an old and soft cloth to do the same thing.
Dip the sponge or the cloth into the buttermilk and start rubbing it on the kettle surface in a circular motion. Applying in a circular motion helps to clean the blemishes to get a clear copper polish.
After cleaning the kettle, start rinsing off when you see the blemishes are coming out. Clean the kettle with clean water and then air dry it.
Note: Don't pour water into the kettle that is too hot. It might bring different results.
Check this also: Is It Safe To Boil Water In A Copper Kettle
Toothpaste Method
Not all of you know about the toothpaste method to remove tarnishes. Yes, toothpaste can also remove the blemishes and make the copper kettle look like new. It also works well to clean copper pans. And how it works! Let's check it out!
The ingredients are:
Toothpaste
A toothbrush (optional)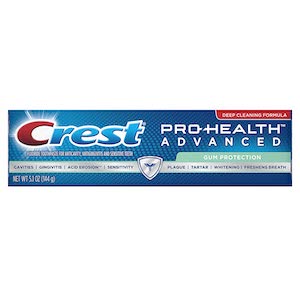 See the steps to be clearer:
The first thing you should do is washing. Take the kettle and wash it with plain water. It will clean the dirt and make the process easier.
Now, take a generous amount of toothpaste and apply it all over the surface.
Wait for a while and scrub it with a scrubber or a toothbrush until the stains are coming out.
After that, rinse it off well just like the previous method.
Dry it with a soft cloth and leave it there to dry it fully.
Note: Don't wait too long after applying the toothpaste. 5-7 minutes will be enough.
Baking Soda and White Vinegar Solution
When you are searching about how to clean Chantal copper tea kettle with some easy and effective hacks, you need to know the entire thing about it. And both baking soda and white vinegar are the elements to give you effective results easily. Let's see what the effective technique of those ingredients is.
The need-able ingredients are:
Some steps to follow:
First, clean the kettle with water. Washing this way before going into further steps is necessary. It will help to remove all the upper-level dirt and thus, make things easier to execute.
After that, take the vinegar and soak the copper kettle into it. Vinegar will be the solution when you are searching for an effective result for how to clean copper.
Then, take a generous amount of baking soda and spread all over the surface.
Now, take a scrubber to scrub all the area well with the baking soda until the blemishes come out.
When you are done with removing tarnish, now clean the kettle with water by using a dry cloth. Or, you can simply rinse it off.
Note: Make sure you don't rub too hard with baking soda. It might create scratches.
Ketchup Method
You might have heard about the ketchup method for removing the copper tarnish. Some people have questions in their minds whether it works or not. Also, they think about how to clean copper with ketchup in a quick way. Well, we have got all your queries. Without wasting any more time, let's get into the procedure to get cleared about it.
All you need is:
See the easiest steps below:
The first thing you should do is to clean the kettle well to get rid of dirt.
Now, apply a need-able amount of ketchup on the surface. Take a soft cloth and gently rub it in a circular motion.
When you are done with removing stains, now wash it with plain and clean water.
After that, take another dry cloth and wipe it out well.
You can check our best coffee makers that grind beans review
Our latest article review about best automatic pour over coffee maker
Pro Tips
Apply a generous amount of elements to avoid wastage.
Don't use a hard scrubber.
Don't apply the methods often. Only use it when the copper kettle needs it.
Do you want to know that How to Clean the Outside of a Burnt Tea Kettle for the Perfect Shine?
What should you avoid while cleaning copper kettle?
There are several things that you should be careful of while cleaning the tea kettle. You might have questions about how to clean a copper tea kettle. Well, when you use a hot water process, you need to be careful. Use gloves to avoid injury. Also, avoid too hot water for this purpose.
Further, when you are boiling water in the kettle, make sure you turn off the oven. Don't try to remove the kettle from the oven until it has cooled down.
Moreover, don't leave a residue of water in the kettle when you are not using it. That might help more to make tarnish inside it. So, overall, these things should be considered, especially when you are going to work with a copper kettle. And maintaining these things might make less tarnish than before.
Final Thoughts
There are several things that we guess will be effective for you. Try any of those hacks to experience the differences between before and after situations. And if you have a confusion about how to clean a copper tea kettle, then this article will help you more.
Don't forget to share this article and your thoughts with us and give us feedback to let everyone know about it.