The Top 6 Best Air Fryers For Large Families
If you have a large family, you know how difficult it can be to cook meals that everyone will enjoy. You may find yourself making multiple trips to the grocery store each week and spending hours in the kitchen every day just to feed your loved ones. An air fryer can help make life easier for large families by cooking food quickly and without all of the oil. These are just some of the many reasons that air fryers have quickly grown in popularity. However, with this surge in popularity, so did the options to pick from. So, if you are finding it hard to pick the right air fryer for you and your large family, you may be wondering, what are the best air fryers for large families?
The best air fryers for large families include:
So, now that you have an idea of what your options are for the best air fryers for large families, let's examine each one in more detail, as well as the many benefits of using an air fryer!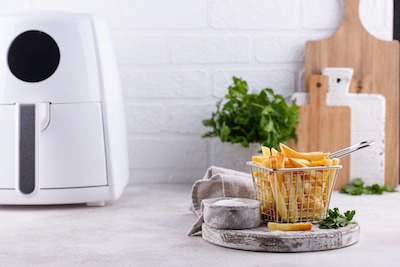 Introducing our top pick, the Ninja DZ401 Foodi 10 Quart 6-in-1 DualZone XL 2-Basket Air Fryer! This Ninja Foodi XL 2-Basket Air Fryer is a versatile and efficient kitchen appliance that offers several features and benefits. Some of the key features and benefits of this air fryer are that it has an oversized 10-quart capacity, 2 baskets, and 6 distinct cooking functions, thus making this multi-purpose appliance perfect for family meals or hosting gatherings with friends! Plus, with the two baskets, the DualZone Technology, and the IQ Boost let you easily craft two delicious dishes at once in record time! Not to mention that this air fryer is easy to use and has a sleek and modern look, that'll look good in everyone's kitchen.
Review:
– Fantastic Cooking Device
This device is probably one of the most awesome things invented! I love it. It is multifunctional and really performs as it says it will and it's easy to clean also. I have air-fried… roasted… baked and broiled in it. Somehow it intensifies the flavor of what spices, etc you use – the results are WOW!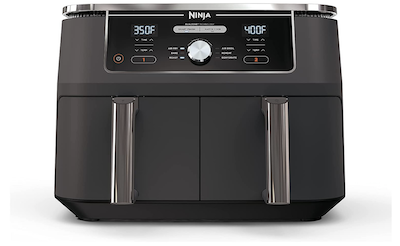 Discover the power of convenience with the Instant™ Vortex™ Plus! This sleek kitchen appliance is packed with features like a rotisserie and EvenCrisp ™ air flow to give you delicious golden-brown, crispy results every time. With this amazing air fryer, you and your family will be able to enjoy all your favorite finger foods with less oil and no mess! So, if you are looking to get dinner on the table faster than ever before!
Review:
We love this airfreight, we have made steaks, fries, salmon, scallops, bacon, and reheated pizza all in the first week. Everything came out great and it is so easy to clean. It's so quiet it's hard to even tell it's running and it's very compact but holds a lot of food. Highly recommend!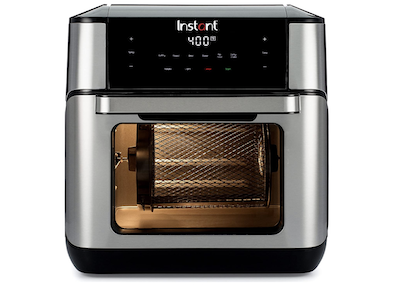 Get ready to fry like a pro in your kitchen with the Chefman Stainless Steel TurboFry Air Fryer! This powerful appliance provides delicious, healthier fried meals without the mess of oil or fat. With an XL capacity and nonstick basket, you can make enough for even large family gatherings—no more sacrificing crunchy taste days later either when reheating leftovers; use this air fryer instead and get back that fresh-fried flavor every time. Roast chicken, create better-for-you fries… whatever craving strikes may be indulged quickly and easily using preset functions – all while maintaining nutrition standards!
Review:
– Very Nice Air Fryer
I researched a few air fryers before I picked this one. I am very happy with it. It's very easy to use and clean. Cooks fast and the food comes out nice and crispy which was what I wanted. I haven't had it too long but it's great so far.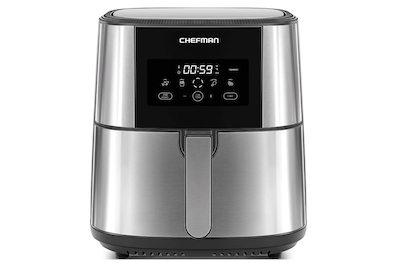 Cut your cooking time in half with the NUWAVE Brio Air Fryer Smart Oven! The NuWave Brio air fryer is the perfect appliance for any family or multi-person household! With an impressive 15.5-quart capacity, four adjustable rack levels, and a countertop convection rotisserie grill combo, it lets you prepare delectable meals in bulk. Whether a steak, chicken, turkey, french fries, a pizza, or nine slices of toast – it can handle them all with ease! Also, it's easy to clean with its non-stick drip tray and stainless steel rotisserie basket.
Review:
– Quick, easy, and compact
My wife and I got this to make dinner time quicker and easier for our growing family. With the many tray options and rotisserie, the recipes we looked up are so versatile! So far we only used it once, but the salmon we made ended up being perfectly crisped in the outside and tender on the inside! It cooked the salmon quickly and clean up was so easy. We also really liked the space-saving size of this unit, it's slightly taller than our toaster oven, but much narrower, leaving more counter space and a less cluttered look.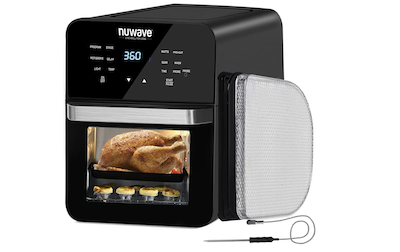 This air fryer is a real game-changer when it comes to healthy cooking! The single basket design, rapid air circulation system, and digital display make preparing mouthwatering meals faster and easier than ever before. You can just place your food inside the appliance, pick one of 10 preset functions or set the timer and temperature yourself – then wait for that delicious crispy goodness! With this incredible kitchen device you don't have to worry about sacrificing flavor for healthiness anymore; enjoy all those deep-fried favorites without any unhealthy side effects.
Review:
– Love
I love this air fryer! It is large enough to cook a lot of food at one time. It is extremely easy to use and I love the look of it on my countertop. I cannot say enough about how easy it is to clean. So much better than the others I have owned.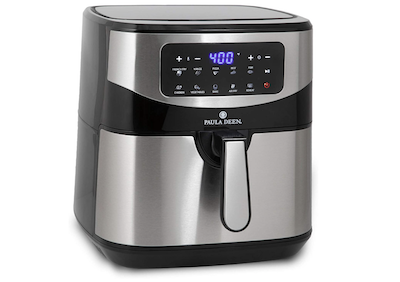 Seize the day and enjoy maximum convenience with this all-in-one air fryer toaster oven! Featuring ten one-touch preset functions tailored to your daily cooking needs – from baking, roasting, and reheating, through rotisserie grilling and air frying – as well as a specialized dehydrating setting for up to 72 hours of endless possibilities. Create delicious jerky snacks or dry out coffee beans, dried fruit, and peanuts at home in no time!
Review:
– Great fryer, great capacity, and delicious food
Received this air fryer today and already made some taquitos, and pizza, and can't wait to give some more foods a try. It takes up a little bit more counter space than my toaster, but it still has a great capacity. I'd highly recommend this air fryer to anybody looking to improve their kitchen setup.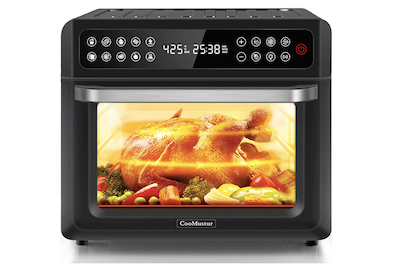 Benefits of Using an Air Fryer
Air fryers are a healthier alternative to deep frying food. They use hot air to cook food, so there is no need for oil. This means that your food will be lower in fat and calories. Air fryers also cook food evenly and when used properly, you won't have to worry about undercooked or burnt food.
An air fryer can help you save time in the kitchen. You won't have to wait for the oil to heat up or for food to cook through. And, since air fryers cook quickly, you can make multiple meals at once. This is ideal for large families who have different schedules and may not all be able to eat at the same time.
Air fryers are also very easy to clean. Most models have dishwasher-safe parts, so you won't have to spend hours scrubbing your air fryer after each use.
If you're looking for an appliance that can help make life easier for large families, an air fryer is a great option. It's a healthier alternative to deep frying, it cooks food quickly and evenly, and it's easy to clean. So why not give one a try? Your family will thank you for it.
In Closing
Don't waste any more time – if you're searching for the best air fryer for your large family, this article on the best air fryers for large families is here to help! With all of our insightful tips and comprehensive reviews at your disposal, finding what fits you perfectly has never been easier. You can purchase quickly and easily with just one click of a link provided above that will take you directly onto Amazon.com; plus there are even other posts and articles ready for exploration too! So make sure every moment today counts by picking out the perfect air fryer now! Happy and healthy air frying!