Top Kitchen Sinks for Granite Countertops
Granite countertops lend both sophistication and durability to your kitchen, and you want your sink to do the same. When you're choosing the best sink for your granite countertops, you want something that will be functional while complementing the beauty of your granite. So what are the best kitchen sinks for granite countertops?
The 5 Best Kitchen Sinks for Granite Countertops:
So, now that you have an idea of the top five best kitchen sinks for granite countertops, let's discuss the factors that you need to consider before picking out and purchasing one for your home before we get into the details of the products on this list!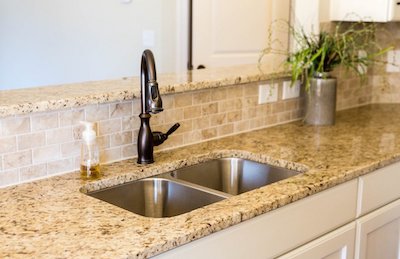 Factors to Consider
There are a few factors to consider when you're deciding on a kitchen sink for your granite countertops:
The Shape
The Size
The Placement
The Material
Sinks come in all different shapes, but the most common are double-basin and single-basin sinks. Double basin sinks tend to be more versatile, while single basin sinks offer more space for large cutting boards and cookie sheets. Your preferences and needs will determine the best choice as far as sink shape goes.
When it comes to size, you'll want to make sure the sink is proportional to your countertops. If you have a small kitchen, you probably don't want an oversized sink that will take up a lot of counter space.
In addition to size and shape, you can choose a few different placement styles for your sink. Undermount and farmhouse sinks are common choices for granite countertops because of their sleek look, but drop-in sinks are more cost-effective. They do, however, tend to collect more debris than undermount sinks do since they have a lip that sits on top of the granite.
As far as materials go, stainless steel sinks accent granite countertops beautifully and are easy to clean, making them many people's top choice. However, you can also get porcelain, copper, and granite-composite sinks, which add a unique design element to your kitchen. These can be more difficult to install, more expensive, and easier to stain, however, so do your research before you choose one of these materials.
The 5 Best Kitchen Sinks for Granite Countertops
So, with all this in mind, let's take a look at our top five kitchen sinks for your granite countertops to help you narrow down your options.
The KRAUS Standart PRO Kitchen Sinks are sleek, modern kitchen sinks that will make your home look great. The undermount design is clean and simple with no exposed mounting deck to trap debris – it's perfect for today's cluttered kitchens. The durable, wear-resistant finish and easy-to-clean rounded corners will help you avoid buildup over time. Channel grooves improve drainage while the sloped bottom makes sure that your sink stays dry even during heavy use!
Review: 
Beautiful, 16 gauge, "Satin," polished stainless Steel. Much nicer than "brushed" stainless steel. My experience is that Kraus products are all superior quality. Sink has a solid sound and the 10" deep bowl is fantastic! (just make sure your supply lines & drain are set low enough to accommodate the depth. No Tinny sound and the whole sink grate protector is very useful to protect the sink bottom & to use as a drying rack as well. Very satisfied, you will be too.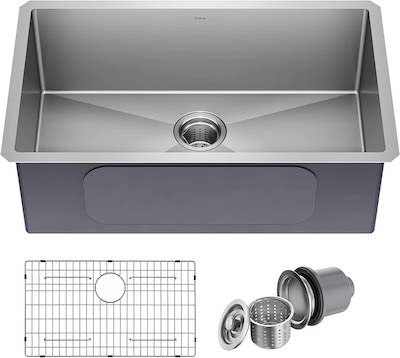 Kraus's sleek, modern granite sinks are a stylish upgrade for any kitchen. Made from 80% natural stone with an extra deep basin to accommodate large dishes easily and rounded corners that make sink maintenance simple, this eye-catching fixture will be a welcome addition to your kitchen.
Review: This sink is very high quality and impressively easy to install. It's deep, so you might have to adjust your drain pipes. It's tough and durable and looks fantastic.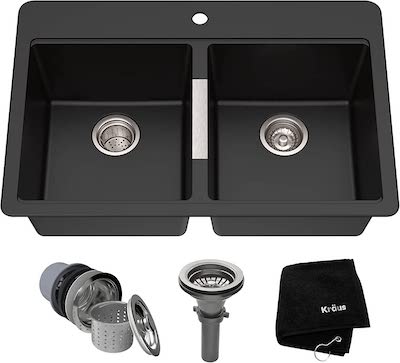 This stainless steel sink is ready for anything! It's crafted from high-quality 18 gauge T304 material that will never bend or rust. Plus, its performance and beauty are matched only by its durability – meaning you'll be able to use this product over again without worrying about dents ruining your day (or week).
Review: Impressive quality for the money. Sound-dampening material on the back. Sturdy gauge stainless. Drain included. Very happy with this one!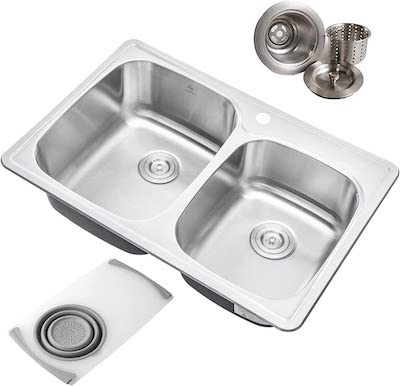 The Whitehaven apron front kitchen sink is an excellent choice for any home with its sleek and simple design that will complement your decor. The large single basin can comfortably hold larger cooking pots or pans, while the sloped bottom ensures easy draining when necessary – all of which makes clean up much easier than it might seem at first glance!
Review: Purchased this Koehler sink for a new kitchen remodels. It arrived quickly and in perfect condition. The sink is beautiful. The front apron is at a perfect height to lean against. I've received multiple compliments on the beauty of this sink. Love it!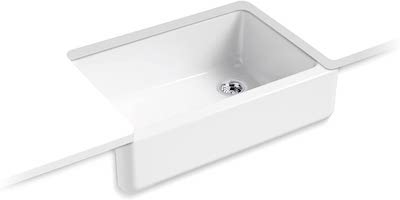 The Roma Workstation Sink from Ruvati's series adds functionality and style to your kitchen. This one-of-the-kind design includes built-in ledges for easy access, so you can slide on any of the included accessories that best suit your needs.
The sink comes with a cutting board, stainless steel colander, and a roll-up rack.
Review: Love this kitchen sink came packaged so well! I take my hat off to this company for standards over and above most companies. Just love all of the items that came with the sink that was my buying point. I was a little skeptical buying off of Amazon for something that was going to be very permanent but I would highly recommend this unit!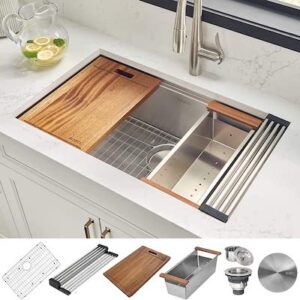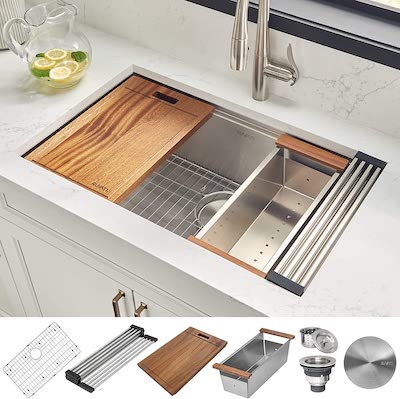 Conclusion
So, this was our list of the top five kitchen sinks for granite countertops. Hopefully, this helped you pick out or narrow down the right kitchen sink for you! Thanks for reading!