What Are The 5 Best Kitchen Mixers For Baking?
Baking is a beloved pastime and a delicious hobby all over the world. Whether you're an experienced baker looking to upgrade your kitchen tools or a novice who wants to do some easy baking, you should consider getting a mixer. When it comes to baking, having the right kitchen mixer can make all the difference. The best kitchen mixers for baking should be powerful enough to blend, whip, and knead any kind of dough or batter consistently and efficiently. So, if you love baking and want to take your desserts to the next level, investing in a high-quality kitchen mixer is a must! So, what are some of the best kitchen mixers for baking?
Here is our list of the 5 best kitchen mixers for baking:
So, now that you have an idea of the options for the top five kitchen mixers for baking, let's examine each of these options in greater detail, as well as learn more about the different types of kitchen mixers and which will be the best kind for you!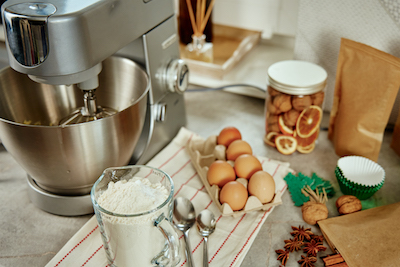 Experience the power of a full-size mixer in an irresistibly compact size with KitchenAid® Artisan® Mini Tilt-Head Stand Mixer. Boasting 10 speeds, this mighty mini 250-watt mixer can whip up everything from fresh guacamole and pulled pork to 5 dozen cookies – all without taking over your kitchen counter! Create small batches of handcrafted dishes or tasty treats at any time; you're only limited by your culinary creativity. Make it happen today with the powerful performance packed into every last inch of this durable tilt-head stand mixer!
Review:
– Wish I had bought it sooner
The ease and simplicity of using this is just amazing. The noise is so minimal when using it. It is the smallest of the mixers but performs like the big boys. I love it!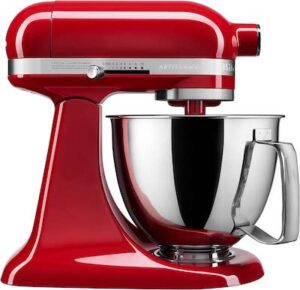 KitchenAid brings you the ultimate power tool for fearless cooks: their innovative Cordless Hand Mixer. Unleash your creativity with this powerful, rechargeable Lithium Ion Battery-powered device and discover a new world of culinary possibilities! With up to 200 cookies made per full charge, go where ambition takes you – no cords required.
Review:
– Get It!
Why have I used corded my whole life?! This mixer is a must-have if you love baking. It's powerful and because it's cordless you're not confined to your closest outlet.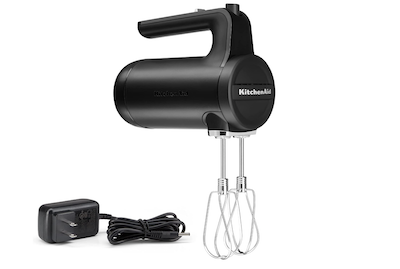 This 500-watt motor with 59 finely tuned points of planetary action is like a high-performance symphony for your kitchen. With its 5.5 quart polished stainless steel bowl, die-cast metal construction, and 12 speeds to choose from, you can mix ingredients unlike ever before! Crafted with advanced precision in mind, this mixer also comes complete with a chef's whisk dough hook flat mixing paddle splash guard pour spout instruction, and recipe booklet as well as a tilt-back head for convenience – it's the ultimate toolkit for perfect concoctions!
Review:
We wanted a stand mixer that wouldn't break the bank. We thought we always wanted a KitchenAid but would have gone for their lowest-end model. Glad we didn't. In every aspect, this Cuisinart beats the basic KitchenAid hands down. We use it often and have not been disappointed. A powerful and quiet mixer that handles every task we throw at it.
This powerful hand mixer effortlessly tackles any culinary challenge you throw at it – whip up some delightful cream, knead thick cookie dough with ease, or whisk together your favorite ingredients. With one simple touch, the unit adjusts to seven different speeds and its unique swivel cord lets you switch between right- and left-handed use. The extra-long beaters have no center post so cleanup is quick whether by hand or in the dishwasher! Plus accessories like a spatula and instruction book help get those creative juices flowing straight away.
Review:
– Great Mixer
It's a great mixer. Does what it's supposed to do. The storage case doesn't fit… just a hair too small… that's the only reason I gave it 4 of 5 stars instead of 5.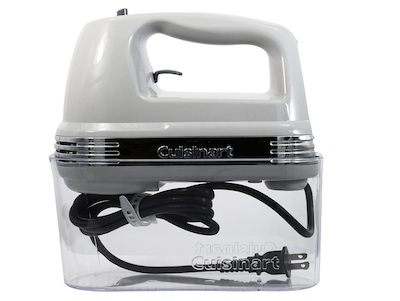 This mixer is versatile, practical, and perfect for all kinds of recipes – from everyday goodies to heavier doughs! Whether you're an amateur baker or a professional chef looking to take your cooking skills up a notch, this kitchen appliance offers precision speed control with gentle suction at the bottom so it won't budge while in use. Plus there are even helpful illustrations above the knob that recommend speeds suitable for specific ingredients like cake batter and frosting. Time to get your baking game on point – grab one today!
Review:
– feel like a professional now
Works like a charm. Made a large amount of
pizza
dough without breaking a sweat. It can easily hold a large batter. The splash shield with the space to add stuff is wonderful. Once it reaches level 5 it does get loud but medium and low are pretty monotone. The slow just basically folds or mixes so that is nice. I did have to scrape the sides once with a thin cake batter mix. It is super pretty teal blue and gold too. Love it!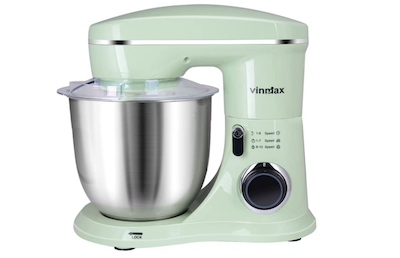 Popular Types of Kitchen Mixers
When it comes to baking, having the right kitchen mixer can make all the difference. There are a few different types of mixers to choose from, each with its own set of benefits. Here's a look at some of the most popular options:
– Stand Mixers
Stand mixers are ideal for baking because they offer a high level of power and precision. With a stand mixer, you can easily mix large quantities of ingredients, and you have more control over the mixing process. This is because a stand mixer typically has a higher wattage motor than the other options. A high-wattage motor will generally be more powerful and efficient, making it better suited for heavy-duty tasks like kneading dough, mixing thick batters or whipping cream without slowing down or overheating, which can save time and effort in the kitchen. So, if you do a lot of baking, a stand mixer is definitely worth the investment. 
– Hand Mixers
Hand mixers are more affordable than stand mixers and are still powerful enough to get the job done. They're not as heavy-duty as stand mixers, but they're perfect for lighter baking projects. Plus, they're easy to store away when you're not using them.
– Food Processors
Food processors can also be used for baking, although they're not as common as mixers. They offer a high level of power and can handle large quantities of ingredients, but they don't offer the same level of precision as a mixer. If you want to save money and have a versatile appliance, a food processor is a good option.
When it comes to choosing a kitchen mixer for baking, there are a few things to keep in mind. First, consider the types of recipes you'll be making. A stand mixer is a good choice if you plan on doing a lot of baking. If you only bake occasionally, a hand mixer will suffice. Second, think about the size of your kitchen and the amount of counter space you have. Stand mixers are larger and take up more space than hand mixers, so they're not ideal for small kitchens. Finally, consider your budget. Stand mixers are more expensive than hand mixers, but they're also more versatile and durable.
Food processors are a good "in-between" size if you're limited on kitchen space, but make sure to check out the features on whichever food processor you choose to make sure it will meet your mixing needs!
No matter what type of mixer you choose, make sure it's powerful enough to handle the recipes you want to make. With the right mixer, you'll be able to create delicious baked goods that are sure to impress your friends and family.
We hope this list of our top five best kitchen mixers for baking in this article has given you all the information needed to decide which kitchen mixer is right for your baking needs. Be sure not to miss out on our other helpful posts and articles! And be sure to click on any of the links above to be directed to Amazon.com to quickly and easily complete your purchase! Thank you and have a wonderful day!