Best Kitchen Knife Sets Under $100
A good kitchen knife set is key to any well-equipped kitchen. Whether you're a beginner cook or a seasoned chef, having a reliable, comfortable, and sharp set of knives is essential. What are the five best kitchen knife sets under $100?
Here are our choices for the five best kitchen knife sets for under $100:
A good kitchen knife set doesn't need to break the bank, but there are a few reasons why you want to buy good quality knives instead of settling for the cheapest ones you can find. These are that they are more efficient and they're more comfortable. A sharp, well-designed knife will make quick work of whatever you're cutting, whether it's a head of lettuce or a block of cheese. A dull, cheap knife, on the other hand, will make even simple tasks like these more time-consuming and frustrating. Additionally, high-quality knives are balanced and shaped to fit comfortably in your hand, which makes using them a pleasure rather than a chore. Cheap knives, on the other hand, are often ill-fitting and uncomfortable to use.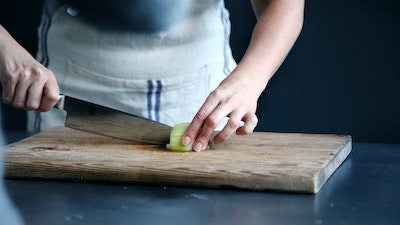 What to Look for in a Knife Set
Now that you know why you should purchase a good kitchen knife set, you need to know what to look for when you're shopping for one:
What's Included In the Set
A solid kitchen knife set should include at least a chef's knife, a paring knife, a utility knife, and a bread knife. A carving knife or a steak knife can also be useful.
Blade Material
The best kitchen knives are made from high-carbon stainless steel or ceramic. These materials hold an edge well and resist rust and corrosion. The blade should also go all the way through the handle.
Handle Material
The best handles are made from durable materials like polymer, wood, or metal. They should be comfortable to hold and provide a good grip, even when your hands are wet.
Price
A good kitchen knife set doesn't have to be expensive, but it should be well-made and durable. A cheap set of knives is likely to be made from inferior materials and won't last as long.
Top 5 Kitchen Knife Sets Under $100
So, with all this in mind, let's look at our top five kitchen knife sets under $100 to help you narrow down your options.
McCook's 15-piece knife set is designed to make your next meal preparation effortless. The knives are all you'll ever need, with a block that keeps them sharp and ready for use every time.
The taper grind edge technology provides optimum sharpness for precise cutting and is easy to re-sharpen, and the ergonomically designed handle gives you comfort and confidence in handling this knife with ease!
Review: I haven't found any cons to these knives. They are sharp out of the box and shine up easily. They are literally the best set I've ever bought.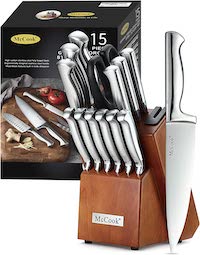 The Astercook 15-piece kitchen knife set is perfect for those who love to cook. It features whole knives made of German high carbon stainless steel and a block crafted from acacia wood. With this set, you can achieve all your cooking needs without worry about the quality or sharpness because they're durable enough no matter what task you throw at them – it's also an excellent gift idea for someone who loves food as much as you do.
Review: These knives are great! They cut any type of food with ease plus they look fantastic. I was impressed with the quality for the price. I've been using them for a little over a month and would totally buy them again.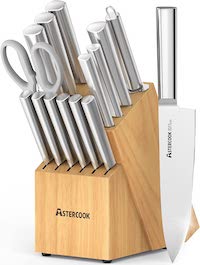 With its durable, high-carbon steel blades and ultra-sharp edges, the Cuisinart® Classic ColorPro Collection ensures that every cooking task will be completed with ease. Also, with precision-crafted cutlery, this set has everything you need for creating professional-looking dishes in any setting.
Additionally, with its sleek white handles and custom contoured design, every knife in this set is easy to control. Whether you're a novice chef or a seasoned pro, these blades will help make mealtime all about masterful perfection.
Review: This set would make a great gift! I love how sharp and durable these knives are! Would recommend!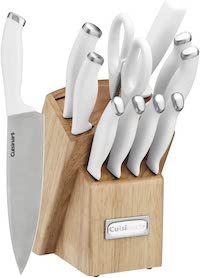 These knives are forged from high-carbon X50CR15 stainless steel, making them corrosion-resistant and stain-free. The textured handles provide an ergonomic grip that is durable enough for long sessions of food prep without fatigue or strain on your fingers.
Your knives will look great on display with the help of this durable natural oak wood block. Great for keeping your blades in pristine condition, it's also an attractive addition to any kitchen countertop.
Review: Affordable good set of knives that were shockingly sharp and sturdy.
The McCook Black knife set is a must-have for any home cook. Its triple riveted handles and graphite design keep your blades at their sharpest, so you can cut through vegetables with ease without worrying about dulling them before their time! The perfect gift idea too – because who doesn't want an elegant-looking kitchen tool?
Review: This is a beautiful knife set that also comes with a sharpener. Knives are very sharp and has all of the necessary pieces. Great set and affordable.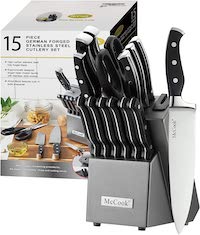 Conclusion
Whether you're just starting out in the kitchen or you're a seasoned chef, investing in a quality knife set is essential. We've provided five of our favorite options for kitchen knife sets that are all under $100. If you are looking for a quality knife set that will not break the bank, any of these five options would be a great choice. With each set costing less than $100, you can get all the knives you need to outfit your kitchen without spending too much. Plus, all of these sets come with high ratings and positive reviews from users, so you can feel confident in your purchase. Have you decided on a kitchen knife set yet? If not, any of these five would make an excellent choice. So, what are you waiting for? Start cooking up your next masterpiece today!