What revives you in a dull, ordinary moment? How do you stay grounded? Obviously, in a stressful moment, a sip of coffee works as a reset button. And in your mind, if you are a home barista, the French press would undoubtedly be one of the right choices for making the drink.
It all starts with the grounds when it comes to French Press, hands down. While pre-ground lose their freshness, the delicate and complex flavor of freshly-crashed beans is second to none. To enjoy the coffee experience to the fullest, you need to have the best coffee grinder for french press.
If you are ready to venture into shopping for your introductory coffee mill, you don't want to waste money on the wrong equipment. We are here to explore the operational design, size, material, budget, convenience, and more to deliver you the right choice.
What Are The Best Coffee Grinders For French Press and Espresso?
Coarse granules are the best for the French press, as you will not end up with extra residue at the bottom of the cup. The size is the same as the sea or kosher salt.
To crush the beans, you can always use the stainless steel mills that are crisp, sleek, and virtually unbreakable. Then, there are ceramic ones that produce consistent coarse grounds. The plastic options are also there to deliver high functionality. You can buy small, portable, handheld appliances to large electric ones for the brewing method according to your preferences.
There is no such blueprint for everyone as people have different tastes. You have to personalize which one is manageable to you. And that's how you can win half battle. So, we have depicted 6 best models for 6 different categories for your ease.
What Are The Differences Between Manual And Electric Coffee Grinders For French Press?
Both the manual and electric models have their pros and cons. However, knowing the differences can help you to choose the right one according to your needs.
Manual Coffee Grinders
Work Process: As the name suggests, these mills use manual energy. You just need to throw the beans, crank the swivel arm, and crush them.
Portable and straightforward: Simplicity is one of the best features of this model. They are small and portable as well.
Affordable: You can find a reliable manual mill by spending only 20-30$.
Elbow Grease: As grounding by a manual machine is a labor of hand, it's tiring to make the drink for more than one person.
Electric Coffee Grinders
Work Process: These are powered by either electric battery or power supply. You throw the beans in and just tap a button.
Bulky: Unlike the manual ones, electric models are bulky and not appropriate to carry while moving.
Expensive: The convenience of these appliances comes with a bigger price tag. They are expensive than manual mills.
Efficient and Convenient: These models need only press of a button to work. They blitz very fast with minimal effort. So these ones are the best choice if you intend to serve the favorite drink to many people.
Best Manual Coffee Grinder For French Press: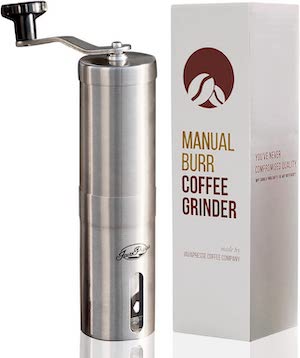 "When everything in your life fails, your coffee never should. And we promise it will never happen"
-JavaPresse
Do you want to have full control over the coarseness of your grounds? You can do that with this fuss-free, functional machine without hurting your wallet. From coarse size for a French press to the fine size for Espresso – you can enjoy all brewing processes with this best manual grinder for french press with little manual effort
Right off the bat, the model offers maximum versatility with its 18 coarseness settings. The burrs offer impressive consistency and precise results as electric ones. Its coffee receptacle is designed in such a way to leave less residue in the burrs.
Rotate the handle clockwise, otherwise you will damage the settings. And the grind settings might take some time to get used to.
The proprietary ceramic burrs are always passed through rigorous testing to ensure five times higher longevity than stainless steel blades. The steel chassis assures a long lifespan and the dual plate system gives it more stability.
This Javapresse manual coffee grinder is quite trouble-free and lightweight. From our research, this one is the best coffee grinder for French press under $50 for frequent travelers. And to sweeten the deal you are getting a free bag of whole beans.
Summary: This minimalist yet all-rounder machine is considered the best coffee grinder for French Press and Espresso. The superior durability, portability, sleek conical design, 18 ground settings, and more boast the remarkable excellence of Japanese craftsmen.
Features:
Adjustable grind selector.
Removable hand crank mechanism.
18-click settings.
Conical shaped ceramic burrs.
Stainless steel exterior
Note: Since you get to blitz around 1.4oz of beans, it is not suitable for a group of people. So it will be a viable choice to have the Handground precision manual for more capacity.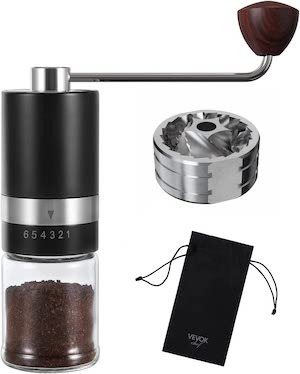 If you are always traveling and your best companion is coffee, then the manual burr from VEVOK CHEF will be the coolest addition to your backpack. VEVOK CHEF is a cinch to use and delivers pretty good results every-time. 
The configuration is off the charts. It is built with a highly-durable conical stainless steel burr, which renders maximum output with minimum hassle. This best hand coffee grinder for French press has an inbuilt five-axis CNC, which blitzes anything that comes on its way. So, this machine can smash the beans from coarse to fine particles with six adjustable levels.
From French press, Chemex to all the way to Pour over and AeroPress – this one will take you to the right spot for every brewing process. The durable conical burr will not produce heat and will not make your freshly ground coffee stale. And the cleaning is easy-peasy as well. 
You can swiftly make your morning coffee without disturbing others. Again, this mill is quite portable. So, if you want to carry the best small coffee grinder for French press with you all the time, you can do that too. You can also check out the silver color.
Though this model is pricier compared to other manual versions on our list, this bundle pack will deliver high-end quality and satisfaction.
Summary: The ergonomic design will deliver supreme grounds to have a perfect cup of joe. The noiseless sturdy stainless conical burr is there for smooth brewing.
Features:
6 precise adjustments
Stainless steel burr.
Inbuilt five-axis CNC.
45-seconds for one go.
48g capacity of the glass container.
Removable hand crank
Note: If you are looking for an economical choice, you can go for the Triple tree manual mill.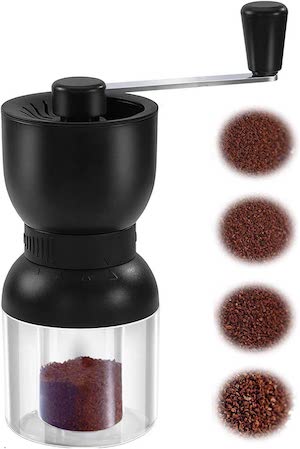 The LHS Hand Coffee Mill kisses the spot in our top list for its nifty aspects at such a reasonable price. This best coffee bean grinder for French press is a viable choice for indoors and outdoors for everyday use.
If you are looking for a word that compliments it properly, that word might be "The Convenient". Simplicity is what this mill reminds us of. It is simple yet so sturdy and delivers consistent coffee grinds. 
The ceramic burr and stainless steel hand crank are rugged-build to bear the daily tear and wear. The four adjustable levels allow you to change in between ground settings. Besides, having the ceramic burr, you can have the perfect grinding. Excess heat will not be there, and you can have a soothing cup of coffee every-time.
There are no complicated settings and so it is quite suitable for the novices. This tiny appliance will fit in every corner of your kitchen drawer or cabinet. And you can take it with you on to the office or your next adventure as it is highly portable.
Summary: In this price range, this is the best option for everyday use. There is no competition when you compare its price with other best quality models. This best home coffee grinder for French press is undoubtedly convenient and delivers you the best cup of joe without any hassle.
Features:
ABS hopper.
Ceramic burr with stainless steel handle.
Removable crank
Four adjustable levels.
Capacity – 1 to 2 cups
You can also check: What are The Cheapest Coffee Brewing Methods
Best Electric Coffee Grinder For French Press: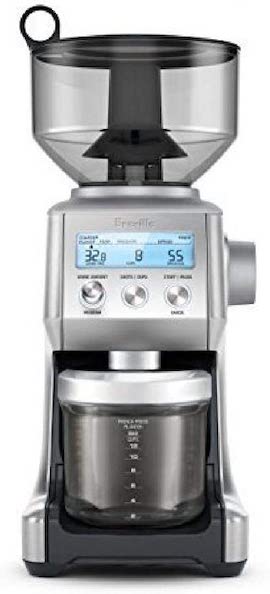 In the words of Breville – "The intelligent configuration of a grinder is to achieve perfect outcomes regardless of how fine or coarse you require for your coffee."
With the coolest settings for the ground size from coarsest to finest, this model is the best grinder for french press and espresso. This high-tech machine is so intuitive that it makes the grinding experience a breeze for the beginner.
The conical steel burrs shine at providing the proper consistency in the grounds. It uses a digital timer to measure its grounds. You can easily detach the bean hopper with a twist of a large dial. 
The ground bin sits snugly on the steel casing and confirms a stable operation. The screen will direct you to everything you need. From changing the grind size to controlling the number of cups and adjusting the grounding time( start, pause, stop), all the steps are effortless. 
You don't have to yank on the cord as the plug features a finger hole. The wire is always a matter of nuisance at the time of storage. Fret not! The model lets you wrap the cord underneath the device. The vent hole is there to keep the motor cool at the time of use. 
Cleaning is crucial to prolong the life-span of your appliance. The removable tray beneath the grounds cup for any spillage is easy to clean. And the instructions of cleaning are printed under it. You don't have to worry about the spilling coffee dust while grinding into the portafilter for the magnetic base plate. They have two more bright colors as well– Cranberry Red and Sesame Black
Summary: This best electric coffee grinder for French Press will render top-notch consistency, which can not be found even from the commercial ground coffee. Fast, user-friendly, and adjustable – these are the fortes of it.
Features:
Automatic change from cups to shots.
60 ground size settings.
Coolest lock and unlock mechanism.
Hopper holds up to 18 ounces.
Can go directly into – portafilter, air-tight container, paper filter, or gold-tone filter basket
LCD display
Comes with Cleaning Brush
Note: You can choose Krups GX420851 as it comes with a scale at an affordable price. And if you are facing any problem at getting the coarse size for French press, you can adjust the brewing time.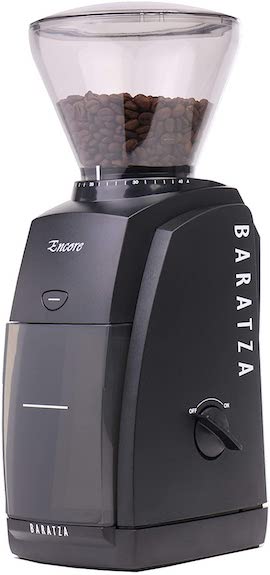 If you are searching for a beginner-friendly gem for the coffee enthusiasts, the diverse Encore from Baratza will be the best burr coffee grinder for French Press. 
The sleek model will deliver you exactly what you need to crush the beans on your own before brewing – nothing more, nothing less. The on/off and front-mounted pulse button with 40 ground settings have covered you in every way.
The pulse button covers the front streamlines grounding on demand. The durable conical burr ensures consistent grounds. It is stable and not going to shake off the counter. 
However, a question may arise in your mind – Is this model a great substitute to Baratza Virtuoso? Though the virtuoso is more rugged-built, you can enjoy quite the same facilities at an affordable price with Encore. 
However, you can also check out the white color with a slightly lower price to match your kitchen. 
This functional workhouse will churn through whatever you throw their way with the rugged alloy steel. This appliance is absolutely a bang for your bucks. 
Their great customer service is the cherry on top. The one-year warranty is also there to crown it a spot at the list of the best coarse coffee grinder for French Press.
Summary: This is another of the best grinder for french press coffee geek that is affordable and straightforward to use without any fuss of detailed digital settings. Its compact design with numerous settings will be a treat to your minimalist kitchen.
Features:
8oz hopper
40 ground settings
Steel burrs
Entry-level model.
Auto-grind feature.
Grinding Button: Pulse and Auto-grind
Note: Generally, most of the electric ones are noisy. If you want to get a machine with no annoying noise at the same price range, you can take the Capresso 565.05 Infinity conical burr. And for cleaning, you need to just deal with the stuck-on coffee in the blade area and hopper with caution.
You can also check:
Coffee lover? Can You Use Heavy Whipping Cream in Coffee? How to Make Coffee on The Stove?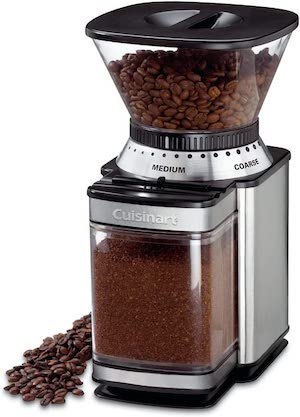 Last but by no means least, Cuisinart hits a home run with the automatic DBM-8 best home coffee grinder for french press without costing you the earth. When you have a tight budget but don't want to compromise the quality, grab it.
The disc burr with brushed stainless steel machine produces coarse to fine grounds better than others. (This one is a disc burr model, not a conical burr. It is a compromise for the price.)
The elegant appliance is durable enough to endure regular house brunch parties. It can smash the beans from 4 cups up to 18 cups in one go. The accuracy of the settings is top-notch, and you are getting value for money across the board. You don't have to re-measure the ground after grinding.
One of its lucrative aspects is it comes with a removable ground chamber that can hold up to 32 cups. The automatic stop version is quite snug too. However, it delivers relatively consistent grounds which will be suitable if you are not a coffee snob.
Summary: This best budget coffee grinder for french press can be a great addition to your kitchen countertop. You won't get any other comparable mill at this price point. Now you can dabble in home brewing with freshly grounded beans with not-so-sophisticated equipment.
Features:
Block burr machine with 18 different ground settings.
8oz capacity bean hopper.
Scoop and cleaning brush included.
Heavy-duty motor.
Best for beginner-home barista.
Separate one-click power bar
Note: Think about the workspace where you plan to locate your grinder near to the power supply. And this model should go through full-scale cleaning.
What To Consider Before Buying The Best Coffee Grinder For French Press?
Before you set yourself out on a mission to buy the best coffee grinder for French Press, you must consider a few aspects. These factors are as follows:
Grind consistency:
To make the perfect cup, the size of every particle should be the same. Accuracy and perfection are paramount to unleash the real flavor of the beans. 
There are usually two types: burr mills, which give you the perfect consistency. On the contrary, the blade models estimate the time spent rather than uniformity. Thus, it will not provide the same result.
Cleaning the machine:
A coffee aficionado roughly needs one to five cups a day. That means you will need a lot of cleaning and worn-out parts. As soon as you ground your beans, it will immediately stick to the machine and clog it. You must make sure that you buy a model that is easy to clean.
If you have a low-priced one, it will worn-out and cost you a lot more in the future. You must be aware of whether it is among those models that come with replaceable parts. We assure you, a cheaper model will surely need them in the long run.
Configuration:
Usually, the burrs are of either ceramic or steel. Ceramic models tend to be less conductive to heat than steel. These are more long-lasting unless you drop them as they are more fragile than steel. So, it is up to you now! 
Updated settings and added configuration should be available in most models. Like, the French press may not be the only style you want. For this reason, you must look for models that provide you with options for multiple brew styles.
Price:
The thing we are all looking for so desperately is the price. Trust me, you would not want to break your bank and end up with a lower standard product. However, the best coffee bean grinder for French press usually comes with a high price. You will surely feel the difference in the models as soon as you take a sip.
Hopper capacity:
The hopper capacity indicates how much beans it will be able to hold. Before you buy, be careful of this feature. Otherwise, you might not be able to make your desired quantity in a single batch.
Timer:
A timer is a handy feature to look up while searching for the best coffee grinder for French press. For this reason, you should consider such a mill that allows you to set a timer. This enables you to do other tasks at hand while your beans are being crushed. Some of the models come with an equipped timer for each shot. On the other hand, some models will specify the time, depending on the quantity of coffee. 
Dimensions:
If you are like me and crave coffee on the go, you will need a portable model. It must be small, lightweight, comfortable to carry around. The prototypes should not occupy too much space on your station and cause much of a hassle.
Do you love latte art? Then you should check out our latest article about best cups for latte art.
Frequently Asked Questions (FAQs)
What is the correct grind for French Press?
French Press needs coarse and even ground to take advantage of all the best features without the negatives. You will not end-up with over-extraction, and fine grit will not sneak by at the time of filtering. Again, too coarse size can lead you to under-extraction, which is usually salty, sour taste, or acidic.
Why is my French Press coffee weak?
Your French Press coffee can be weak for four reasons. 
If you don't use enough coffee, it can be watery and blunt. For French Press, the recommended quantity is to use 2 Tbsp for each 6oz of water.
Not brewing long enough.
If you use cooled water, the coffee will be dull. Use 195-205 degrees Fahrenheit hot water.
If the size is too coarse.
Why is my French Press coffee strong?
If you find your French Press Coffee strong, there can be reasons – 
If you let your coffee steep for too long.
  If the ground size is too fine. 
 Using a large amount of coffee 
If the water is too hot, it can also make your drink strong.
Conclusion
Get ready for a learning curve in figuring out which setting of which machine gives you the right size of grounds. Keep in mind the caveats and you can roll up your sleeves and get hands-on smashing the beans in your best coffee grinder for french press. All of them are well worth popping on your top list. Please share with us your experience as sharing is caring!
Happy caffeinating!