Are there any alternatives to espresso grinders, especially when your primary objective is getting a rich cup of coffee every morning? But proper care is also required for it.
How often to clean espresso grinder is one of the common questions regarding grinder maintenance. Although it depends mostly on the use, you should usually clean the grinder at least once within 2 to 3 months.
Do you need to clean more?
If you need to grind frequently and in substantial amounts, then the duration can be decreased.
How Often to Clean Espresso Grinder
Here in our guide, we'll try to provide a detailed look into how often to clean grinder and how the grinder can be kept clean and free of possible issues. Let's find out!
The Duration Between the Cleaning Sessions
Coffee grinders require frequent cleaning because continuous usage without cleaning would create issues in the long run. These issues can also reduce the actual lifespan of these devices to a certain extent.
If you leave it without any maintenance, the coffee particles will infiltrate all the grinder parts. The hoppers will get deeply coated by the oil and create a sticky mess hard to get rid of.
For that reason, you should offer deep cleaning around every 2 to 5 months. But don't forget to dust off excess grounds every time you use them. The deep clean duration can be varied.
If you use it less, deep cleaning can be delayed from 2 months to 4 to 5 months.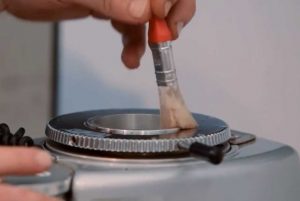 How to Properly Clean Your Espresso Grinder
If you didn't know how to clean oxo burr grinder then here are our expert tips!
Before proceeding with a deep cleaning, you should go through these instructions that shed light on how the grinder can be cleaned.
First, unplug the espresso grinder from the electrical sockets. Cleaning it while keeping it plugged in can be slightly risky.
Remove the grind chamber and hopper from the device.
Get a lint-free cloth and wipe clean both items. Try to catch any oil buildup or tiny coffee particles that may be attached to them.
We'd highly discourage using paper towels because they may create links.
If the oily substances are too sticky and not getting off with the cloth, you can use a mild soap to clean their surface.
You can also use warm water to give them a mild wash. Don't heat the water too much; otherwise, you may burn your hand or damage the components in the process.
But exposing the chamber and the hopper to the water must be done while maintaining certain precautions. For instance, rinse them thoroughly so there aren't any soapy substances left on the surface.
Not rinsing them properly can also pose health threats as the soap's chemical substances can get mixed with the ground coffee and cause physical issues later on.
 Don't forget to air dry each part of the component or use a cloth. If any water is left, corrosion can be the result.
Get the outer burrs removed by twisting them. Don't need to get the inner burr as it can be tricky to remove it properly and without damaging it.
Use brushes or toothpicks to clean the burrs thoroughly and get rid of any remaining coffee dust.
Get the grinders re-assembled.
Well, this is the entire process of grindz burr grinder cleaner operations. If you have a Cuisinart burr grinder and you don't know how to clean cuisinart burr grinder then follow the same process with any manufacturer.
Perform it well, and you should get a longer-lasting grinder in return.
Can You Clean Coffee Grinder With Water?
Well, here is a question you often hear people asking. Is it possible to clean the coffee grinder using water?
Well, that depends on what parts you're talking about. Here, never forget that the electrical components of coffee grinders are strictly forbidden to be cleaned with water.
Especially the base of the best espresso grinder, where the actual machine and the interface are located. It's something that should never be exposed to water and kept dry at all costs. Even dampness can cause electric issues to these components.
The water can travel to the electric circuits and cause short circuits, completely ruining the device.
Only the removable parts of the grinder can be used to clean with water, i.e., the hopper and the grinding chamber. Do make sure whether they're dishwasher safe before putting them inside one!
FAQs  
What is the benefit of grinding your own coffee?
Keeping the ground coffee for long can lose the core flavors after some time. That's why it's always better to ground your own coffee. It preserves the flavor and offers a rich taste.
Does coffee grow in hot weather?
Too hot conditions may not be the best for coffee. Warm to cooler tropical climates are best for coffee.
How to clean a manual coffee grinder?
Remove the grind container, hopper, and ceramic burr; clean each one using a brush, dipping them in warm soapy water.
How long does a burr grinder last?
Quality burr grinders can last up to 5-6 years.
How do I know if my grinder burr is bad?
If you see burr edges becoming duller and getting highly inconsistent coffee ground, then it's a sign that the burr is bad.
Final Thoughts
Throughout our tremendously detailed guide, we tried to explain the maintenance issues of your coffee grinders comprehensively. Our guide has gone deep into the entire process, so you get to understand it with the utmost clarity.
Just like any other device, the coffee grinders require their own bit of maintenance and cleaning.
Many users can be seen complaining about the poor lifespan of their coffee grinders or blenders. One of the main reasons behind it is their unwillingness to maintain them properly.
But that should not be the case for you now. As you know, how often to clean espresso grinder and how the most effective cleaning can be performed.
So, get your grinders the timely maintenance and get longer-lasting devices every time.