Electric kettles have now become a staple in modern kitchens due to their convenience, speed, and precision in boiling water. The market today is filled with an array of choices, making it difficult to make a decision on the best one. This essay has attempted to shed light on the top 10 Electric Kettles in the market today, factoring in variables such as capacity, power, design and special features. Our selection includes models like the Cuisinart CPK-17 PerfecTemp, a kettle with a 1.7-liter capacity and 1500 watts of power. It has six different heat settings and includes a 'keep warm' option among other features. We've also considered compact yet powerful options like the KitchenAid KEK1222SX, and the Bonavita BV382510V 1.0L Digital Variable Temperature Gooseneck Kettle, renowned for its precision in temperature control.
Cuisinart CPK-17 PerfecTemp
For tea connoisseurs who appreciate the subtle differences in flavors when their favorite brew is prepared at just the right temperature, this Cuisinart 1.7-liter capacity kettle is an absolute must-have. With 1500 watts of power, it doesn't just bring water to a boil, it delivers it precisely heated based on the type of tea – whether you're enjoying delicate white or green teas, or the more robust black and oolongs varieties.
Temperature Control
This feature-rich kettle offers not one, but six different heat settings. Exact temperature control allows you to select the ideal heat, ensuring that every cup of tea you brew tastes its best. It makes your tea prepping process less prone to any guesswork that might otherwise leave you with an over-brewed cup.
Special Feature
And if you're suddenly called away or desire another hot serving of tea later? This high-end kettle has got you covered with its "Keep Warm" feature. It maintains the same temperature at which it initially heated the water for up to an extra 30 minutes. This means you can come back to the perfect cup of tea whenever you're ready.
Design Aspect
The kettle also impresses with its striking design. Its blue backlit water window is not only visually pleasing but practical as well. This BPA-free feature is visible in any light, meaning that you can monitor your water levels and the brewing process whether it's day or night.
Summary
This Cuisinart offering seamlessly blends practicality with class. Six different heat settings, a handy keep warm feature and a blue backlit water window, all housing within a sleek 1.7-liter BPA-free and 1500-watt power design, make it one of the best electric kettles on the market today.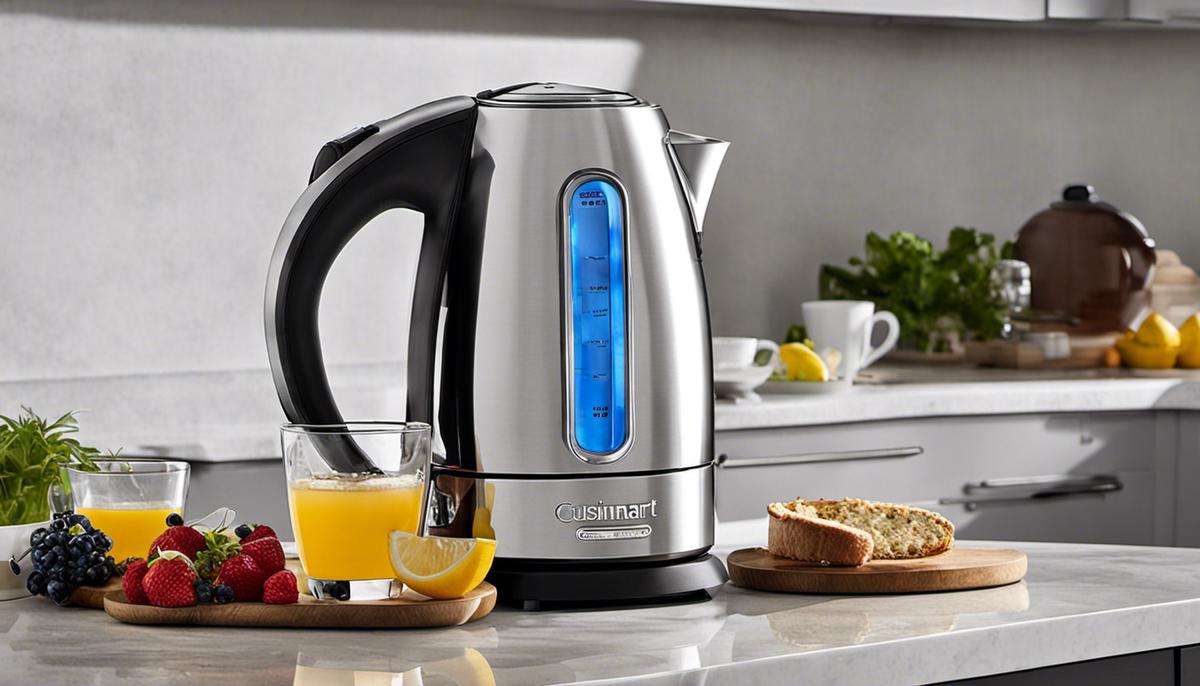 KitchenAid KEK1222SX
Sleek and Stylish Design
The KitchenAid compact electric kettle boasts a sleek and stylish design, made from high-quality stainless steel. Its modern aesthetic appeals to any kitchen decor and its compact size makes it a perfect choice for any kitchen size. Whether you have a tiny apartment kitchen or an expansive open-concept home, this compact yet powerful appliance will stand out without cluttering your countertop.
Impressive Capacity
Despite its compact size, this KitchenAid kettle offers an efficient 1.25L capacity, meaning you can comfortably warm up enough water for multiple rounds of tea, coffee, or instant soup, without having to refill and reheat again and again. For a family of tea drinkers or even for entertaining guests, this capacity meets the need without unnecessary repetition.
Built-In Temperature Gauge
One of the standout features of the KitchenAid compact electric kettle is its built-in temperature gauge. No more guesswork when it comes to achieving the perfect water temperature for your cup of coffee or tea. This smart feature lets you heat your water to the exact temperature you need and ensures optimal flavor extraction from your favorite beverages.
Automatic Switch-Off Feature
We've all had those moments in the kitchen when we forget something on the stove, but with the KitchenAid compact electric kettle, those moments can be avoided. It has a helpful automatic switch-off feature to keep your kitchen safe. This kettle automatically switches off once the water reaches the desired temperature, saving energy and minimizing any risk of overheating or boiling dry.
Simply the Best
All of these efficient and convenient features combine to make the KitchenAid compact electric kettle one of the best on the market. Its stylish design, impressive capacity, smart temperature control, and safety features make it a top pick for any home or office. Its blend of style, utility, and smart, user-friendly features easily places it among the top contenders in electric kettle options.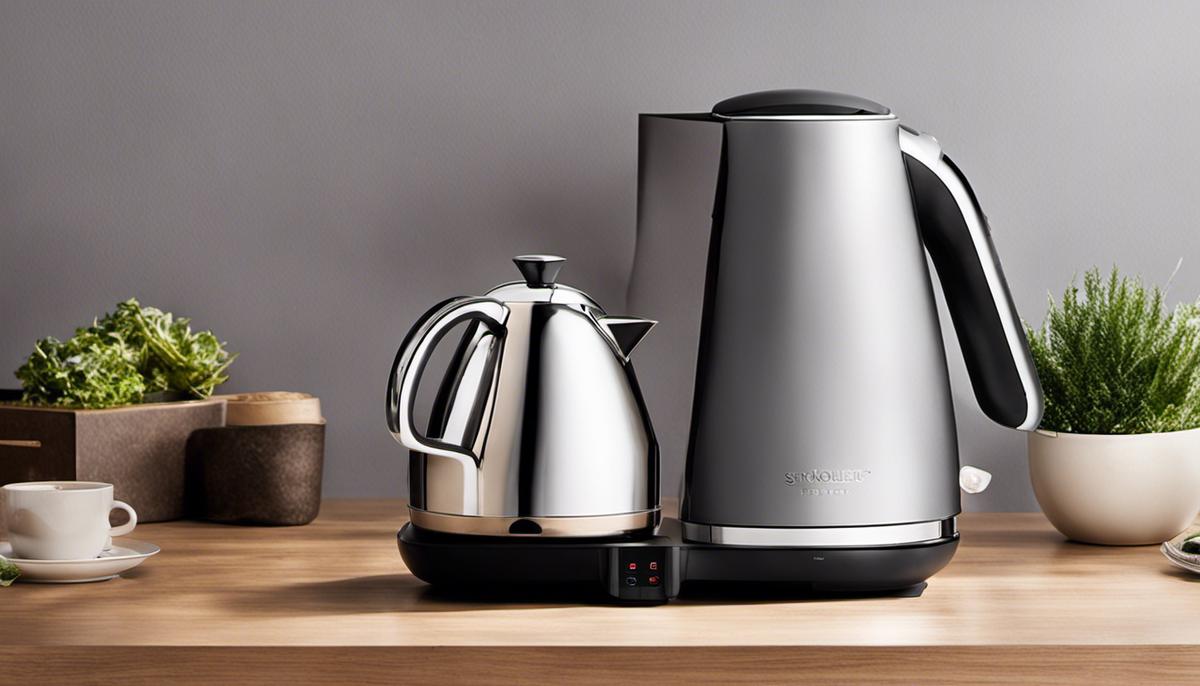 Bonavita BV382510V 1.0L Digital Variable Temperature Gooseneck Kettle
Bonavita: Precision and Convenience in One Package
Consider Bonavita's electric kettle if you're a fan of coffee pour-overs, or if you fancy a kitchen device that combines utility with technology. This kettle propels itself ahead of other models due to its reliable and precise temperature control, allowing you to fine-tune your brewing process down to the degree.
This accuracy is crucial in maximizing flavor extraction for coffee and various types of tea, where temperature can make or break the brew. It's easy to use and keeps a consistent temperature for up to an hour, meaning your hot water is ready when you are.
Elegant Design Meets Efficient Functionality
Bonavita's gooseneck spout design sets it apart from the crowd. Not only lending an elegant silhouette to the kettle, the thin, curved spout allows for better pour control. This ensures the water is directed right where it needs to be, reducing spills and increasing precision.
Whether you're performing a slow, rhythmic pour-over or quickly filling a large pot, this spout design will serve you well and improve the overall brewing experience.
Powerful Performance and Speedy Heating
Not one to sacrifice performance, Bonavita's electric kettle packs a robust 1000-watt heating element. This power allows for quick and efficient heating, delivering boiling water in a shorter time than conventional kettles.
This kettle not only maintains the desired temperature for up to an hour, but it also reaches that temperature swiftly and reliably. No more waiting for what seems like an eternity when the caffeine cravings hit. With this Bonavita kettle, your ideal hot brew is just a few moments away.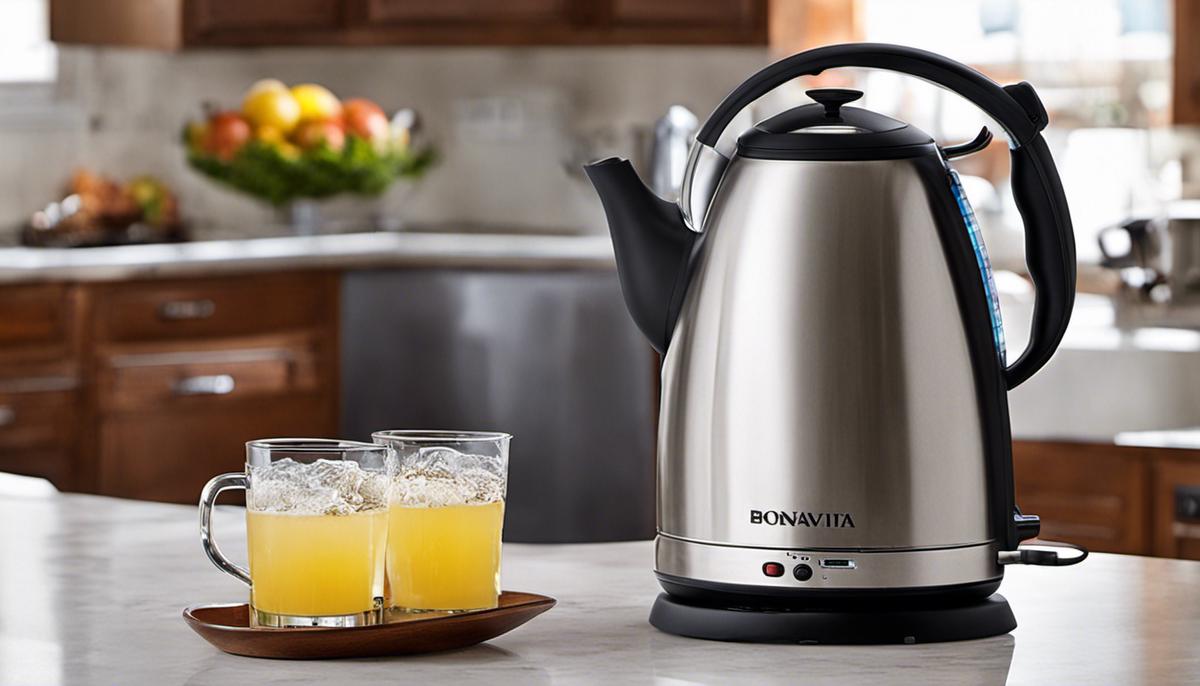 After delving through details and features of the top 10 Electric Kettles, it's evident that deciding on the ideal kettle is dependent on the specific needs and preferences of the user. Whether you prioritize capacity, power, design, or precision in heat settings, there is a model out there that has been designed to meet your needs. Will it be the Cuisinart CPK-17 PerfecTemp with its multiple heat settings? Or the KitchenAid KEK1222SX with its compact design and inbuilt temperature gauge? Or perhaps the Bonavita BV382510V with its precise temperature control and efficient pour control? Whatever your preference, investing in a high-quality electric kettle can significantly enhance your hot drink experience.