Slow cooking apples and wooden, earthy smokes: do you know a better combination? Not at least in the month of autumn! The marriage of apple butter and autumn spices is a delectable, irresistible delicacy of the month. Be it a toast topping or an addition to your bowl of healthy, dairy-free oatmeal, or a dipping sauce to your average morning pretzels, the apple butter has the ability to make everything better.
And we want you to enjoy the comfort of this luscious creation by learning how to make it at home. This is why here's our recipe on how to make apple butter in a copper kettle!
What You Will Need
To create grandma's old fashioned apple butter recipe that melts in your mouth, you will need the following beside a copper kettle:
20 gallons or 3 Bushnell of fresh Jonathan apples
4 gallons of ACV or apple cider vinegar with the mother, for better taste
4 pounds of sugar
1 teaspoon of cloves
1 teaspoon of allspice
1 teaspoon of ground nutmeg and
3/4th cup of cinnamon powder
How to Make Apple Butter in a Copper Kettle at Home
Here's what you will need to do:
Peel, slice, and distribute the apples into 4 stainless steel pots the day before. Add half a gallon of ACV to each pot, and let it simmer for two hours. When it cools, it'll sit overnight.
The next day, start a fire with elm or oak timber and place your copper kettle on. Pour 2 gallons of ACV and your cold mixture in. From now to 8 hours from here, you'll need to constantly stir the mixture from time to time to avoid sticking to the copper kettle.
Now that you can feel the thickness add the sugar and the spice and stir for another 30 minutes, and you're done!
Use up 36-pint jars with the result of this recipe and share with friends!
Traditional Apple Butter Recipe: The Seemsville Way
You've learned how to make it at home, but do you want to learn more about how the famous Seemsville makes their apple butter for the whole neighborhood? Making apple butter in an old-fashioned way has been quite like a celebration here. So let's get you acquainted!
The neighbors would not take ACV. In fact, they would make it from scratch. So if you were there, you would see them cutting apples on the first day and making apple cider on the second. The third day would be the actual day of the cooking!
Mark Schwartz of the locality has been famously making it in the local amusement park for over 20 years now. If you were to follow Schwartz's recipe, your steps would look like these:
Use five gallons of home-made apple cider to five pounds of "schnitzel" or carved/peeled apples. Start your cooking by boiling your apple cider vinegar, and when it comes to a boil, add your apples slowly.
Keep stirring the mixture as you add, and you'll notice with the time the mixture turns into a thick puree. This is when you know it is time to add the sugar. You should abstain from adding sugar until you see the apple butter puree. If you add sugar beforehand, the sugar will evaporate with the rest of the water.
You have to use white sugar if you follow this recipe. Start by adding a pound and gradually make your way up, that is, increase the sugar amount, instead of pouring all of it at once. The ideal is to use 5 pounds, but you can go as much as you'd like to taste. If you have sweeter apples, you may not need as much.
Your apple butter is thickening. Now take more than an ounce of cinnamon powder and half teaspoon of ground cloves, and mix them into a bowl by pouring apple cider vinegar into this dry mix. You'll be pouring this liquid mixture now into the copper kettle.
When you have reached the right consistency, which is checked by running cider and drawing a spoon on the sauce for negative results, you're ready to pack!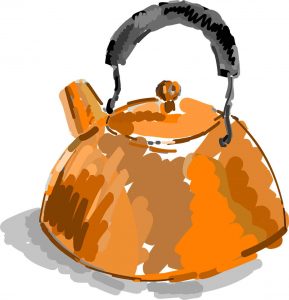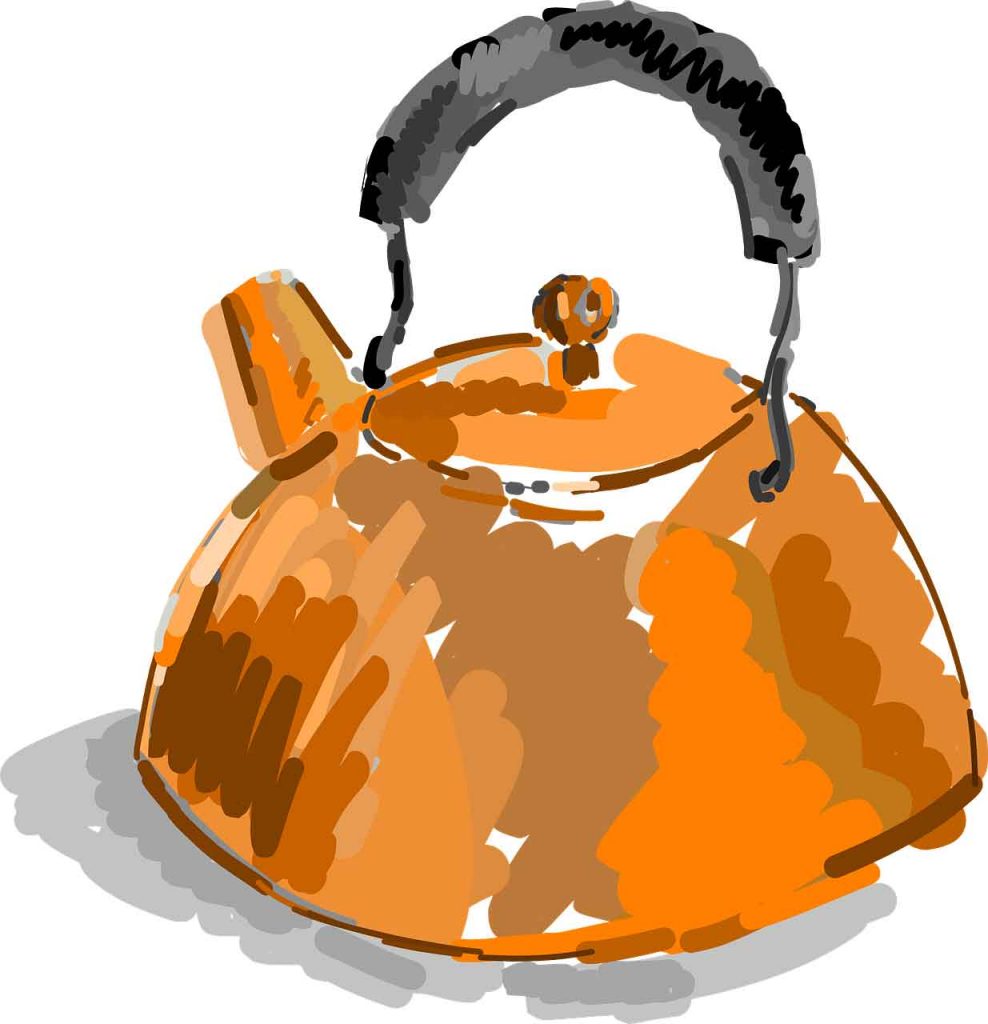 Why Use a Copper Kettle For Apple Butter?
When making apple butter, many people use ovens as opposed to a copper tea kettle. But what is the reason behind the copper kettles having the upper hand?
Cooking apple butter in the oven or iron containers causes two mishaps: one, the lack of flavor, and two, the reaction between the elements. When you choose a copper kettle, you cut down on this reaction, enhance and flavor and let an even distribution of heat envelope your apple butter!
Final Words
So you have learned how to make apple butter in a copper kettle, and the recipe was the easiest thing ever! It is not really hard but requires you to have a good amount of time and patience in store. If you try to hurry the process, you'll be left with a gooey mess.
If you take your time in building up the stages and creating the delicacy, you will be left with a beautiful golden puree that'll have everyone asking for more. So choose wisely!
After cooking apple butter do you want to know how to clean a copper tea kettle?
Check this also: Is It Safe To Boil Water In A Copper Kettle