Toasters are an indispensable part of the everyday breakfast routine. Toasting bread in these energy-efficient devices not only saves time but also enhances the taste, making your mornings a delight. However, getting a capable toaster without breaking the bank may seem challenging. In this enlightening guide, we delve deep into the world of budget-friendly toasters, examining their features, advantages, and potential drawbacks. From understanding key toaster features to examining the top budget-friendly options and learning about their care and maintenance, we have got you covered.
Understanding Toaster Features
Capacity: How Much Toast Can You Make?
One of the first considerations to make when selecting a budget-friendly toaster is its capacity. Commonly, toasters come in 2-slice and 4-slice models. A 2-slice model is generally more compact and ideal for individuals or small households, while a 4-slice model can be more efficient for larger families or those who consume a high volume of toast. For budget concerns, 2-slice toasters render a less upfront cost but using a 4-slice toaster might save electricity in the long run if you're frequently making a lot of toasts.
Settings: Controlling the Crunch and Color
Next, check the toaster's adjustable settings which control the toasting level, letting you customize the crunch and color of each slice. Most toasters come with a standard range of toasting levels, ranging from light to dark. More advanced models include settings like bagel mode that toasts only the cut side of your bagel, and defrost settings for toasting frozen slices. While these extended settings could be seen as luxuries, several budget-friendly toasters incorporate them whilst remaining cost-effective.
Additional Functionalities: More Than Just Toast?
Toasters have evolved over time to include additional functionalities beyond toasting slices of bread. Some budget-friendly models offer capabilities such as reheating and keeping the toast warm without additional toasting. Also, look for features like a cancel button for immediate termination of the toasting process, removable crumb trays for easy cleaning, and high lift lever for safely retrieving smaller items without burning your fingers. Note, however, that these additional features might come with an added cost.
Durability: The Lifespan of Your Toaster
Being budget-friendly doesn't necessarily mean compromising on the lifespan of the toaster. Certain inexpensive models have proven not only to be affordable but also durable. Observe the material used in construction; for instance, toasters with stainless steel exteriors are often more durable than ones with plastic exteriors, and can handle constant use and high temperatures while decreasing the risk of overheating.
Brand and Reviews: Peer Insights
While investing in a certain brand doesn't always guarantee the quality of a toaster, it can provide an indication of overall satisfaction and reliability. Trusted brands usually deliver consistent performance and offer better guarantees or customer service. Furthermore, customer reviews can be beneficial in determining the real-world efficiency and performance of a budget-friendly toaster. Reviews often reveal long-term insights such as durability and functionality concerns not noticeable during initial usage.
When on the hunt for a budget-friendly toaster, it's crucial to carefully compare aspects such as capacity, settings, additional features, longevity, and customer feedback. Even with a smaller price tag, many affordable toasters come packed with useful features and consistent performance.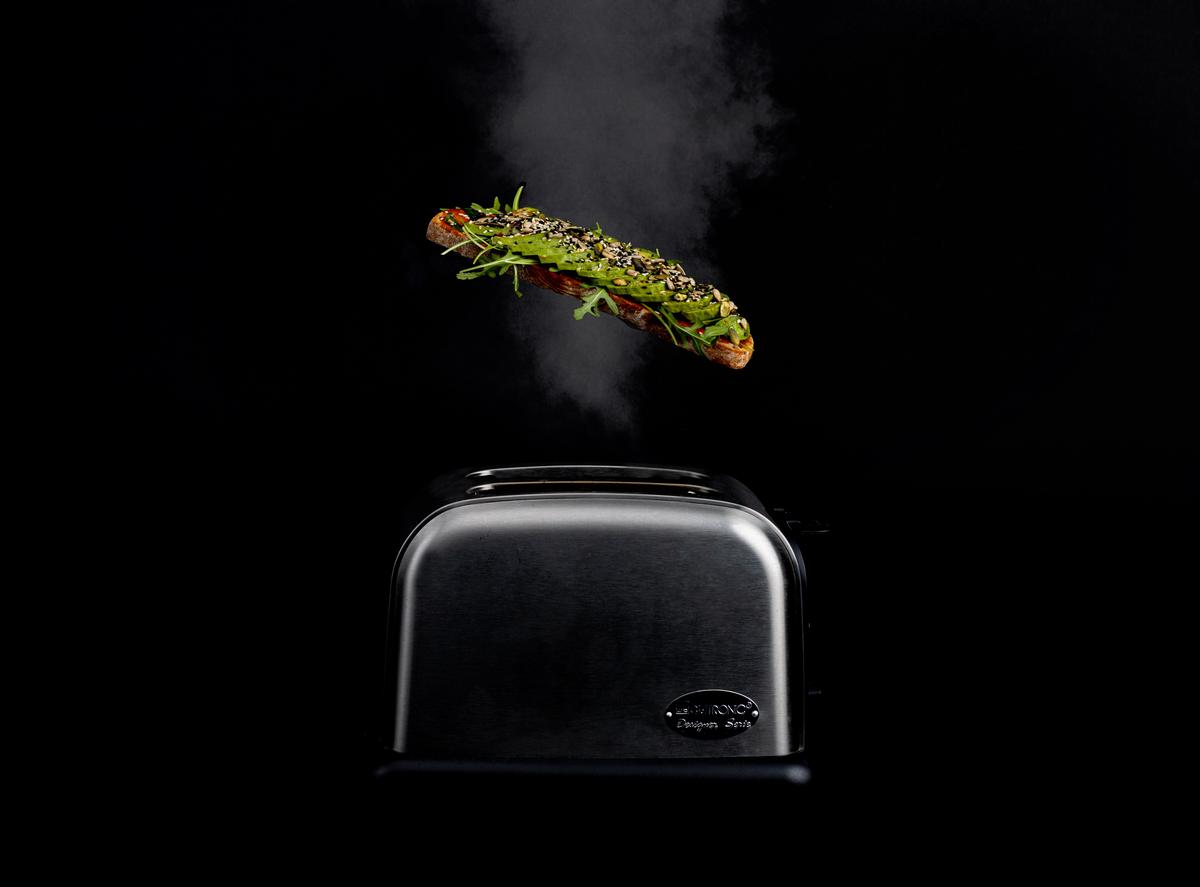 Photo by sarahjulia on Unsplash
Top Budget-friendly Toasters
The Affordable and Efficient Cuisinart CPT-122 Compact 2-Slice Toaster
The Cuisinart CPT-122 Compact 2-Slice Toaster emerged as a top contender in the realm of cost-effective toasters. This compact appliance, which seamlessly fits into any kitchen size, boasts plenty of stand-out features, including variable temperature control, bagel, and defrost presets, as well as a slide-out crumb tray for hassle-free cleaning. It's designed with wide 1.5-inch slots to accommodate both thick and thin bread slices evenly. However, it's worth being aware that the toaster's exterior can become hot during prolonged use.
BLACK+DECKER 2-Slice Extra Wide Slot Toaster
The BLACK+DECKER 2-Slice Extra Wide Slot Toaster is another budget-friendly toaster that offers impressive features. This toaster has extra-wide slots that can accommodate a wide variety of bread types, including bagels and artisan bread slices. It also boasts of a high lift lever for easy removal of bread. However, some users have noted that the heat settings can be inconsistent at times.
Hamilton Beach Toastation Oven
For a gadget that provides double service, the Hamilton Beach Toastation Oven combines a regular two-slice toaster with a mini-oven. This makes it a versatile gadget fit for toasting, reheating and even baking. The oven section is large enough to fit two 16-inch pizza slices and the toaster functions with a high toast lift for easy removal of small slices. Potential issues include a difficulty in cleaning due to its oven-toaster combination and a lack of longevity.
Oster 2-Slice Toaster
The Oster 2-Slice Toaster is another budget-friendly toaster with an attractive, brushed stainless-steel design. It offers several settings for custom toasting, such as bagel, frozen and pastry modes, along with seven different toast shade settings. It also has wider slots compared to many competitors, allowing for a variety of bread sizes. However, this toaster may take a longer time to toast compared to other models.
Navigating Affordable Toaster Options: AmazonBasics 2 Slice Extra Wide Slot Toaster
Selecting a budget-friendly toaster that offers value with essential features can be quite a task, and one worthy contender is the AmazonBasics 2 Slice Toaster. It comes with a streamlined, space-saving design that matches its fundamental yet effective features. With elements such as extra-wide slots, thaw, bagel, and cancel buttons, alongside six shade settings, it covers all your toasting needs. While it may lack some additional features compared to other toasters, this model stands out for its reliability and affordability. However, a possible limitation refers to its size as it might not handle larger bread or bagel pieces properly.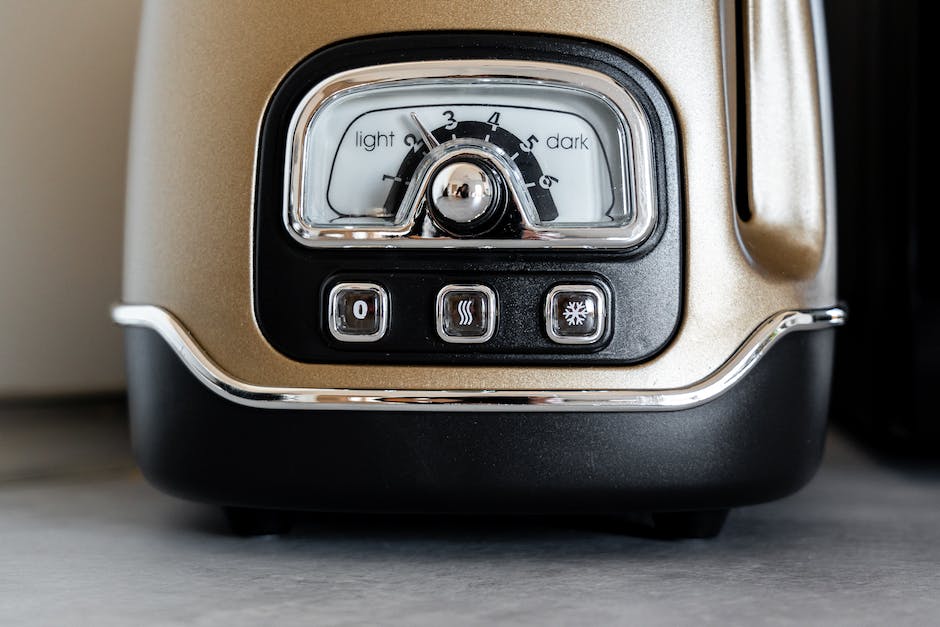 User Reviews and Feedback
A Closer Look: User Experiences with Various Budget-Friendly Toasters
The Hamilton Beach 2 Slice Toaster is acknowledged by many as a user-friendly and reasonably priced device. Its economic advantage and simple, effective design receive a lot of commendation. That being said, certain users have experienced uneven toasting, and potentially confusing settings have been reported as well.
User feedback on the Oster 2-Slice Toaster mostly revolves around its consistent toasting, sophisticated design, and simplicity. The defrost and bagel settings are often highlighted as useful features. Despite some negative remarks regarding its short cord and external warmth after toasting, its overall performance provides good value for the price.
For those conscious of countertop space, the Proctor Silex 2 Slice Toaster emerges as a popular choice due to its compact structure. However, some users have expressed concerns about uneven toasting at higher settings, as well as doubts regarding unit longevity.
The AmazonBasics 2 Slice Toaster, the model we highlighted earlier, receives positive feedback for its uncomplicated usage, wide slots, and cool-to-touch exteriors. Users broadly agree that it offers reliable and even toasting for different types of bread, with some reservations regarding its short power cord and sensitive browning control.
The advanced features the Cuisinart CPT-160 Metal Classic 2-Slice Toaster offers, along with its eye-catching design, make it a favorite amongst users. However, a few users expressed disappointment about its durability.
The Black & Decker TR1278B 2-Slice Toaster is applauded for its wide slots, fitting for chunky bagels and thick artisan bread slices. Yet, inconsistencies in toasting and an over-hot exterior during operation were grievances mentioned by some.
Examining these user experiences offers valuable insights into the strengths and potential drawbacks of each toaster, formulating a clearer picture of what to expect from budget-friendly options.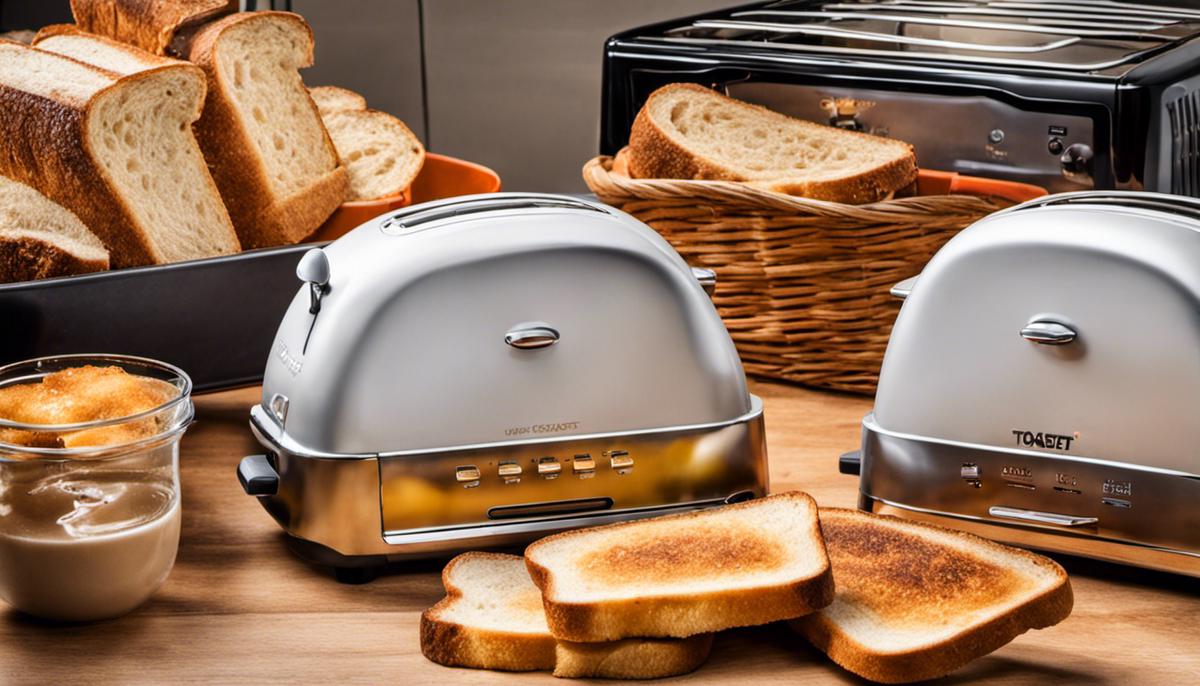 Care and Maintenance Tips for Toasters
How to Properly Maintain Your Low-Cost Toaster
Right care and maintenance can go a long way in prolonging the lifespan of your toaster, especially if it's a budget buy. This means keeping it clean and addressing minor problems promptly to ensure it continues to function at its prime for an extended period.
Cleaning Tips for Your Toaster
First, always unplug your toaster before starting any cleaning process, for both safety and electrical reasons. For regular cleaning, simply pull out the crumb tray, tip out the crumbs into a trash can, and wipe down the tray with a slightly damp cloth or sponge.
If your toaster doesn't have a removable crumb tray, turn the toaster upside down and gently shake out the crumbs over a trash can. You can use a small, soft brush to remove any crumbs stuck in the slots. Never use metal utensils to remove the breadcrumbs as they could damage the heating elements.
Periodically, depending on the use, deep cleaning may be necessary. This involves using a mixture of vinegar and warm water to clean the exterior of the appliance. While doing so, avoid getting liquid into the slots as it might affect the electrical elements.
Ensuring Proper Use
To extend the lifespan of the toaster, do not overload it or force bread slices that are too large into the slots. This can lead to the bread getting stuck and potentially harming the toaster mechanisms. Additionally, it's wise to let the toaster cool down if you're planning on toasting multiple rounds back-to-back.
Also, remember that the toaster is not intended to reheat or defrost food items; doing so could result in overheating and eventual damage to the toaster.
Troubleshooting Tips
If your budget toaster stops working all of a sudden, you can do some basic troubleshooting. Check if the appliance is plugged into the power source correctly. Likewise, inspect the cord and plug for any visible signs of wear or damage that could potentially be causing the problem. Lastly, don't forget to test the sockets by plugging in another device to see if it works.
Always remember that major repairs should be left to professionals or consider replacing the toaster entirely if it is no longer economically feasible to repair. Buying a new, budget-friendly toaster might be a more sensible option compared to the potentially expensive repairs.
By following these tips, you can ensure that your budget-friendly toaster will serve you reliably for a long time. Even the most affordable models can offer excellent durability and performance when treated with care.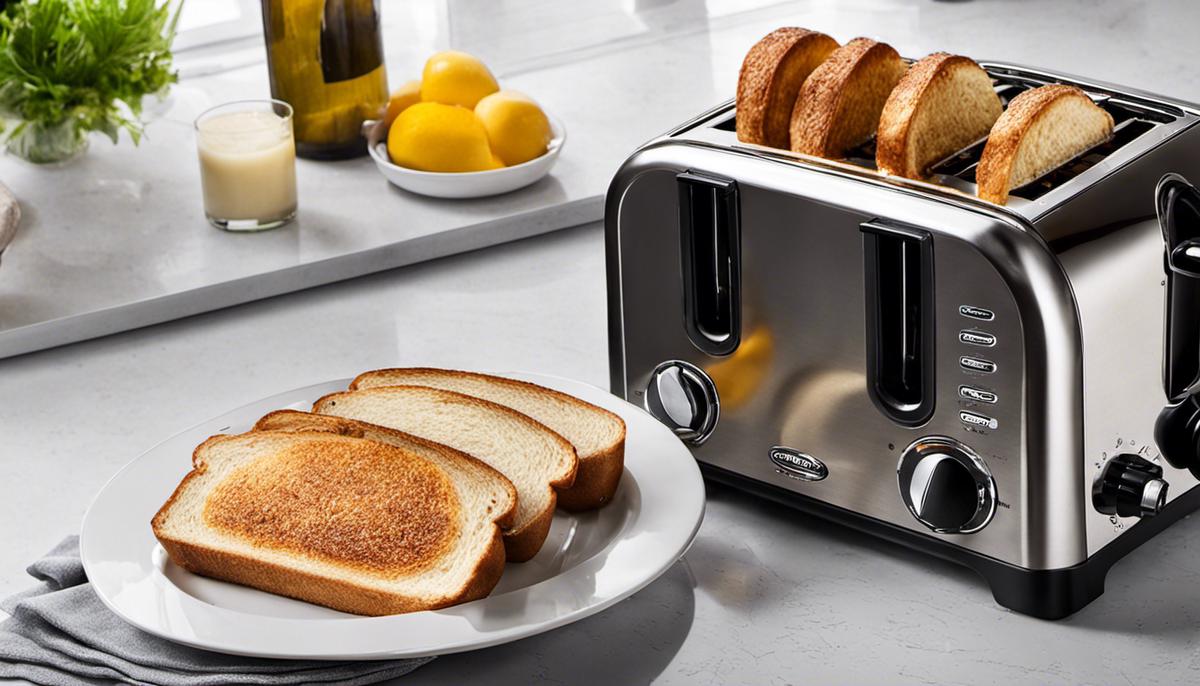 Your relationship with your toaster, like most other kitchen appliances, doesn't end at purchase. Ensuring its longevity requires regular care and maintenance, allowing you to enjoy crispy toasts for years to come. Furthermore, investing in a budget-friendly toaster doesn't mean compromising on quality or essential features. With an informed approach, user insights, and an understanding of your unique needs, selecting a toaster can be a hassle-free process. This guide empowers you to make an informed decision and get the maximum value from a budget-friendly toaster.